Beth Barany's Novels now listed at Booksradar.com.
I'm happy to announce that all my novels and non-fiction books are listed here at Booksradar.com.
You can also find many other authors like Konn Lavery (https://konnlavery.com), Charles Tabb (https://charlestabb.com/), and Lisa Towles (https://lisatowles.com/bio), and many others.
They did a nice job laying out all my series.
You can jump to them as follows: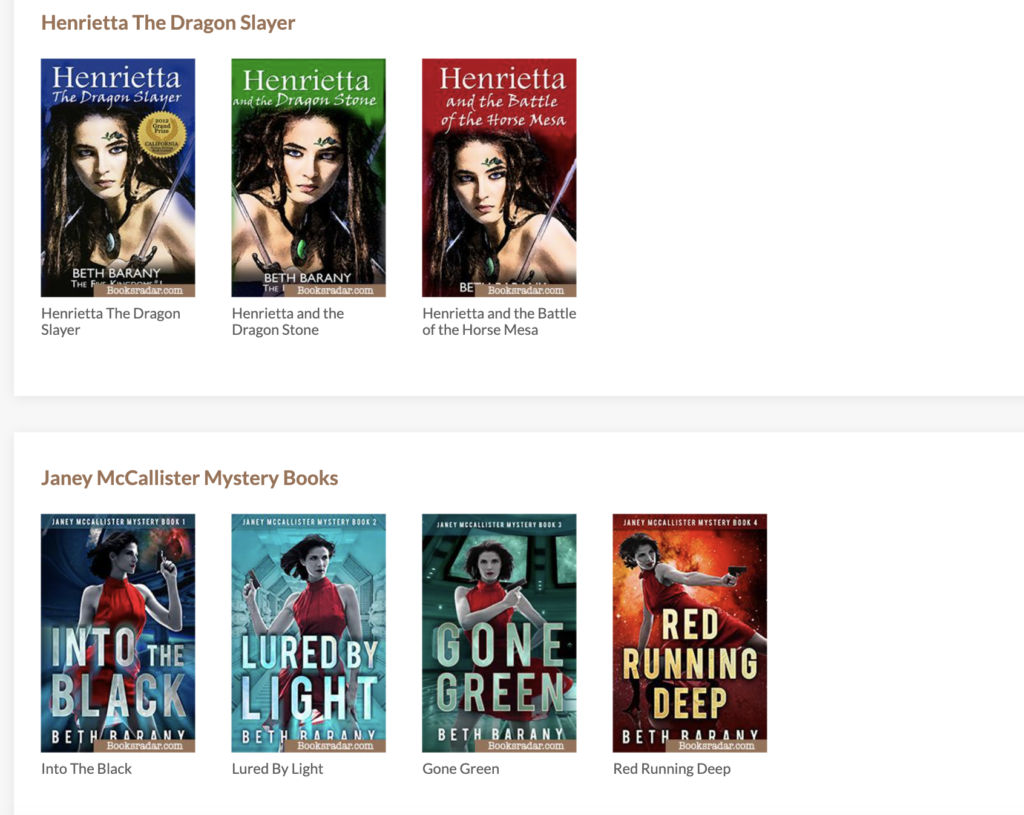 ABOUT HENRIETTA THE DRAGON SLAYER SERIES
Henrietta, the legendary Dragon Slayer of the Kingdom of Bleuve, can't stomach the thought of one more kill. Yet, in order to save her dying mentor, she must go on one last quest. But will misfit companions, seasickness, and an ego maniacal king derail the quest for the healing stone? And will she be able to cut past her conscience and kill the dragon?
Series page: https://author.bethbarany.com/ya-fantasy/
ABOUT JANEY MCCALLISTER MYSTERY SERIES
This fun, often riveting novel offers an intriguing blend of mystery, sci-fi, and romance elements— The BookLife Prize
PAGE TURNER AWARDS FINALIST WINNER
She wanted to make her mark. How hard could it be?
She wanted to make her mark. How hard could it be?

In 2130, at Bijoux de L'Etoile, a high-end casino orbiting Earth, you can get anything you desire.

Newly-hired as an investigator, Janey McCallister wants to solve her first big case—the theft of a priceless gem.

When her case of theft escalates to murder and points to the seedy underbelly of world affairs, Janey has to rely on her new team and trust the mysterious insurance investigator, Orlando Valdez—before a killer escapes into the black.
MORE ABOUT THE SERIES HERE: https://author.bethbarany.com/janey-mccallister-mystery-series/
I'm on a mission to highlight strong girls and women in our stories, fiction, movies, and other media.
I've written posts on Kick Ass Heroines, Bad Girl Archetypes, the Wild Woman Archetype. To me these posts are about are strong women, girl heroes, an ode to heroes, and girl power, fairytales and folktales.
ABOUT BETH BARANY
Follow on Goodreads | Follow on Bookbub | Follow on Amazon
Award winning author, Beth Barany writes in several genres including young adult adventure fantasy, paranormal romance, and science fiction mysteries.

Inspired by living abroad in France and Quebec, she loves creating magical tales of romance, mystery, and adventure that empower women and girls to be the heroes of their own lives.

For fun, Beth enjoys walking her neighborhood, gardening on her patio, and watching movies and traveling with her husband, author Ezra Barany.

They live in Oakland, California with a piano, cats, and over 1,000 books.

Beth is also the author of bestselling nonfiction books for authors and aspiring authors and helps novelists through her courses and programs at Barany School of Fiction.
HOW TO WRITE THE FUTURE PODCAST
For science fiction and fantasy authors who want to create optimistic stories.
A podcast for visionaries, futurists, foresight practitioners, and storytellers.
Tips for fiction writers by a fiction writing coach and teacher.
♥️ When we vision what is possible, we help make it so.
ALL THE DETAILS HERE: https://writersfunzone.com/blog/podcast/
---
---
Enjoy my books and want to support me, just because? Buy me a coffee.
Love kick-ass heroines on a epic fantasy? Then check out the Henrietta The Dragon Slayer series here.
Want to dive into a space station murder mystery series? Janey McCallister is on the case. Start here.
Ready for some Short-n-Sweet contemporary paranormal romances set in the San Francisco Bay Area and France? Go here.
Elements of "Into The Black" (Janey McCallister Mystery Book 1):
Mystery Sci-Fi Romance Novel
Intriguing Blend of Mystery, Sci-Fi, and Romance
High-Stakes Investigation
Priceless Gem Theft
Murder and Intrigue
Seedy Underbelly of World Affairs
Mysterious Insurance Investigator
Futuristic Casino Setting
Enhanced Humans and High-Tech Gadgets
Slow-Burn Romance
Futuristic Vision of Earth
Strong Heroine with Secrets
Space Station Mystery
Suspenseful Plot
Space Jet Travel
Crime and Suspicion
Futuristic Detective Story
Intricate World-Building
Uncovering Secrets
Fast-Paced Thrills
Unique Investigative Team
Intergalactic Crime
Exotic Casino Location
Unpredictable Twists
Futuristic Crime Solving
Unraveling the Conspiracy
Action-Packed Intrigue
Character-Driven Mystery
Enjoy this mystery, sci-fi, and romance series with a futuristic twist.