Available only in e-book!
Included in the CHRISTMAS MAGIC COLLECTION, two Christmas Elf stories…
A CHRISTMAS FLING
A CUPCAKE CHRISTMAS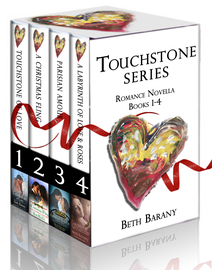 Available in print and digital!
Travel to worlds where anything is possible—time travel to Medieval France; a cute Santa's elf hiding in plain sight in San Francisco; a mystery under the city of Paris that only love can unlock; and, love, destiny, and a labyrinth.
Books, Courses, and Consultations!
For her day job, Beth helps other novelists write, publish, and market their books as a creativity coach.
She also runs the online school for fiction writers, Barany School of Fiction.
You can find more writing tips on her blog for and by creative writers, Writer's Fun Zone.