Young Adult Fantasy
Book 1 of Henrietta The Dragon Slayer series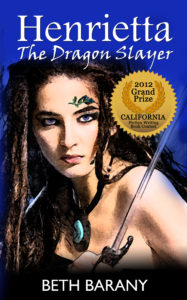 She's a legend at 17, but only Henrietta knows the price she paid for her fame … and it was much too high.

From the Winner of the California Fiction Writer's Book Contest comes this thrilling adventure of a young warrior on one final quest … against an opponent she swore never to face again.

Henrietta, the legendary Dragon Slayer of Bleuve, can't face the thought of another kill. She's lost family, friends and home on her rocky road to fame. But when the young warrior is summoned by a King to retrieve the Dragon Stone from the last dragon in existence, she can't refuse–her mentor lies dying, and the healing stone is all that can save him. This quest will be her most harrowing of all, for it means facing mysterious assassins, the dreaded choppy sea, and all with a misfit band–a young witch, a jester and a surly knight. And at journey's end, someone must die … the dragon, or Henrietta.

Perfect for fans of Tolkien's Lord of the Rings, Collins' The Hunger Games, McKinley's Hero & the Crown, and Paolini's Eragon. Get your copy of Henrietta the Dragon Slayer today!
Excerpt
Read an excerpt here.
What Readers Are Saying
Read reviews here.
Where to Buy Henrietta The Dragon Slayer (Book 1)
AMAZON PORTALS
Amazon US
Amazon UK
Amazon.com in France
More Amazon Portals
Amazon CA | Amazon AU | Amazon IN
Barnes & Noble print & Nook
Smashwords
iBooks
Kobo
Indie Bound
The Book Depository.com
Goodreads
Add to your Goodreads Shelf:
Libraries
Henrietta The Dragon Slayer is also available from your local libraries. Just ask!
Why I Wrote Henrietta The Dragon Slayer
Why I write: …in my own words…
I was inspired to write Henrietta the Dragon Slayer because all the fairy tales I read as a kid were always about boys as heroes: Jack the Giant Killer this, Jack and the Seven-Headed Giant that, and of course, Jack and the Beanstalk. Hey! I wanted to know what about Jill! Where's the girl hero? That is why I wrote Henrietta the Dragon Slayer (Fate of the Five Kingdoms #1). I wanted, and still want, to have my girl heroine fight the good fight and have adventures, and save the day. Even today I was researching heroic fantasy on Goodreads and found only stories by men written about men and boys. Again, I ask, "Where are the women and girls who are tough and can lead, and have to make the hard decisions, and yes, still be women?" (Whatever that means!)
Next Books in the Henrietta The Dragon Slayer series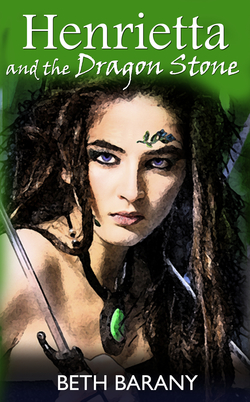 Book 2: Henrietta and The Dragon Stone
:: About: Where to Buy and What Readers are Saying.
:: Click here for an Excerpt.
A new story of adventure by award-winning author, Beth Barany.

Book 2 in the Henrietta The Dragon Slayer series of the continuing adventures of Henrietta The Dragon Slayer.

Henrietta faced the dragon and won the healing stone–but now faces an even greater test. The young dragon slayer is trusted with a crucial message that will save the Five Kingdoms from war. But to deliver it, she must slip past an evil sorcerer and his many guises.

When the new King Renaldo of the Oro Islands gives Henrietta a crucial message to deliver to her own King, she accepts gladly, knowing she can at last bring the healing stone to her ailing master. But she, loyal knight Franc, and their companions quickly discover that things are not as they should be in the Kingdom of Bleuve. Dangers beset them on all sides, war threatens, and Henrietta will face losses that threaten to break her. Dark magic is at work within her home kingdom … and things will never be the same. Especially Henrietta herself.

Perfect for fans of Tolkien's Lord of the Rings, Collins' The Hunger Games, McKinley's Hero & the Crown, and Paolini's Eragon. Get your copy of Henrietta and the Dragon Stone today!
---
**If you'd like a review copy, please contact Beth. Thanks!
---
Book 3 of The Henrietta The Dragon Slayer series:
Henrietta and the Battle of the Horse Mesa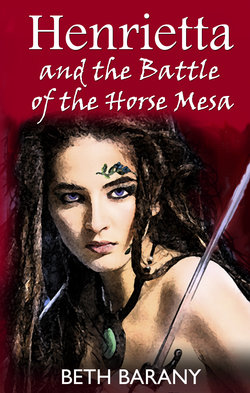 Sign up for my author newsletter to stay tuned to all the news!
Release Date: June 17th, 2016
Publisher: Firewolf Books
No. of pages: 405
Recommended Age: 12+
Genres/Themes: YA, adventure, fantasy
Summary:
In this sweeping conclusion to the Henrietta The Dragon Slayer trilogy, we are reunited with our four friends to face their biggest challenge yet.
Sworn to protect all, Henrietta the legendary Dragon Slayer of Bleuve must lead her people into the biggest battle of her life against a sorcerer bent on destroying her and overtaking all five kingdoms… but first she must rescue her more-than-friend, Franc, from the men who stole him right under her nose.
Paulette, the fire witch, desires only to master her magic, so that she can come to the aid of her friends at battle. Yet, she must first stand trial for a murder she had to commit out of desperation. Unable to stand the confinement, and the stinging betrayal of her friend, Jaxter – now a king – she escapes prison and flees to the frigid, forbidden land of Varangia to find the Volcano Witch. There she must let go of everything if she wants to master her power.
Jaxter is no longer a jester and must come to terms with his new responsibilities as king of the Oro Islands, his old home. In order to run a complicated kingdom recovering from being under an evil king for over 75 years, Jaxter must abandon his carefree life. And he must make things right, including putting his dear friend, Paulette, on trial for murder.
Will Henrietta with the help of her friends be able to stop the ruthless sorcerer from obliterating her, claiming the Dragon Stone, and ruling over the Five Kingdoms?
Excerpt posted here.
Want to get all three books in one volume? Now you can!
Books 1-3 of Henrietta The Dragon Slayer series is now available in e-book edition.
VENDORS
Amazon (US link) | Amazon Universal link
Smashwords
Kobo
B&N
iBooks
For more information about this box set, go here.
---
Want to Start the Henrietta The Dragon Slayer Series for Free?
Start with the prequel here.
---
Get an Overview of the Henrietta series here