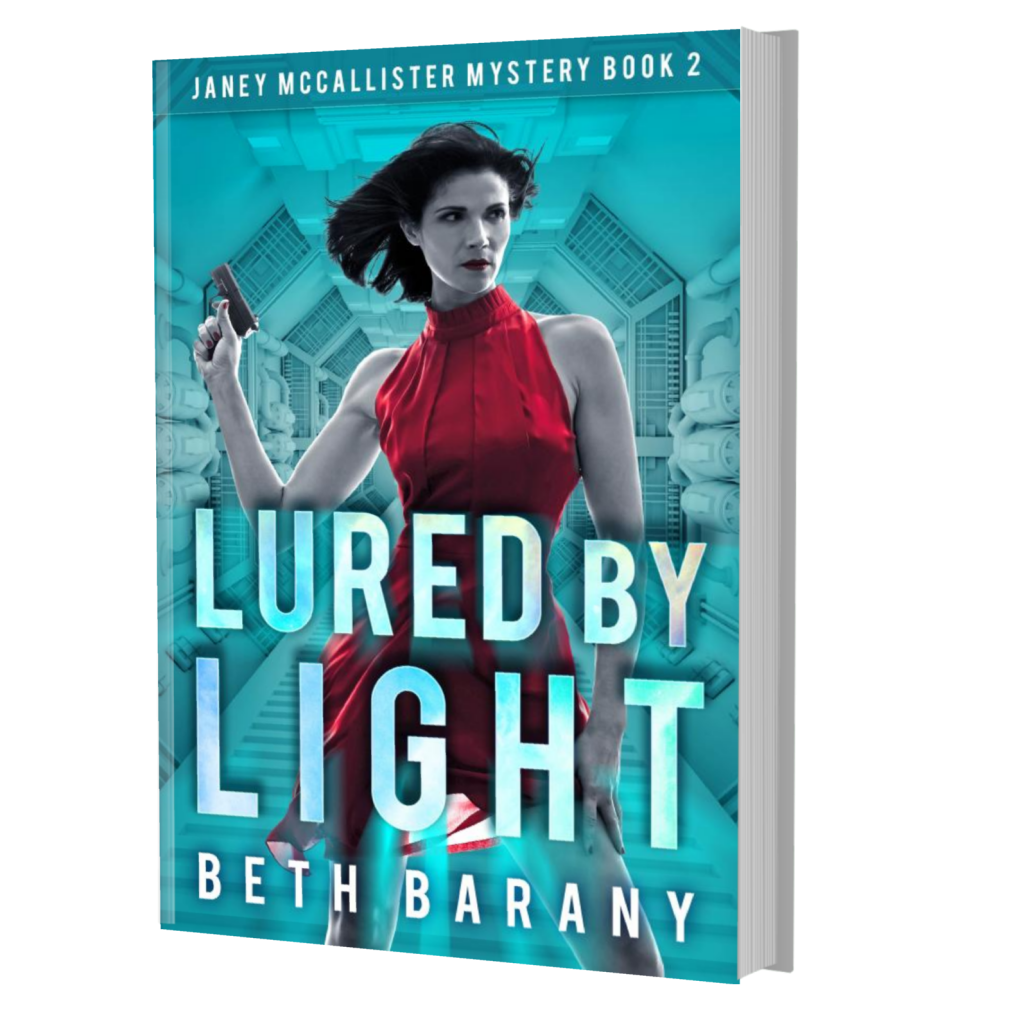 Book 2, Janey McCallister Mystery series
Out now!
***
At Bijoux de L'Etoile, the high-end casino orbiting Earth, anything can happen.
It's a quiet day for casino lead investigator, Janey McCallister, until a young woman runs screaming past the black jack tables. She looks like a victim of abuse, but when her boyfriend turns up dead the next day, she becomes the prime suspect.
Determined to investigate every angle, Janey searches for clues and uncovers a world of high-priced escorts and human trafficking—a world just like the one that took the life of her best friend long ago.
When Orlando Valdez, inspector for Sol Unified Planets, shows up with a new suspect, Janey isn't sure she can trust the mercurial man who stopped returning her calls. But as the threats escalate and she unravels a deeper conspiracy, Janey and her team will need all the help they can get. If they fail, it could be the end of everyone on L'Étoile.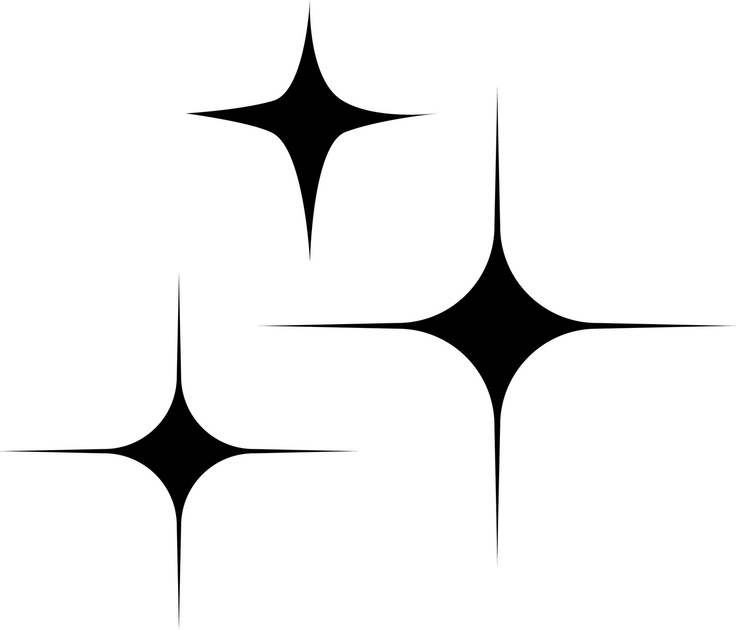 https://books2read.com/luredbylight
Janey McCallister Mystery series
Into The Black (Book 1)
Lured By Light (Book 2)
Gone Green (Book 3)
Red Running Deep (Book 4)
WHAT READERS ARE SAYING
… a lot of action and mystery which I like….

Reviewer on Amazon
Reading a Janey McCallister Mystery is like watching a Star Trek movie or watching TV shows like the Killjoys or Vagrant Queen. If you like shows like these then you are going to love Janey McCallister. One-click your copy of a Janey McCallister Mystery today!

— Nancy Allen (The Avid Reader)
This is a real good and twisty mystery.

— Patricia A. Beaver
I'm totally hooked on the Janey McCallister novels. I adore the scifi element of this mystery series as well as the well-defined characters.

— Keri K.
Wow what a fun mystery on the crazy gambling space station!  I love Janey!  I read your book day and night!  I may even finish it soon — it is hard to put down.

— Wyn Plocher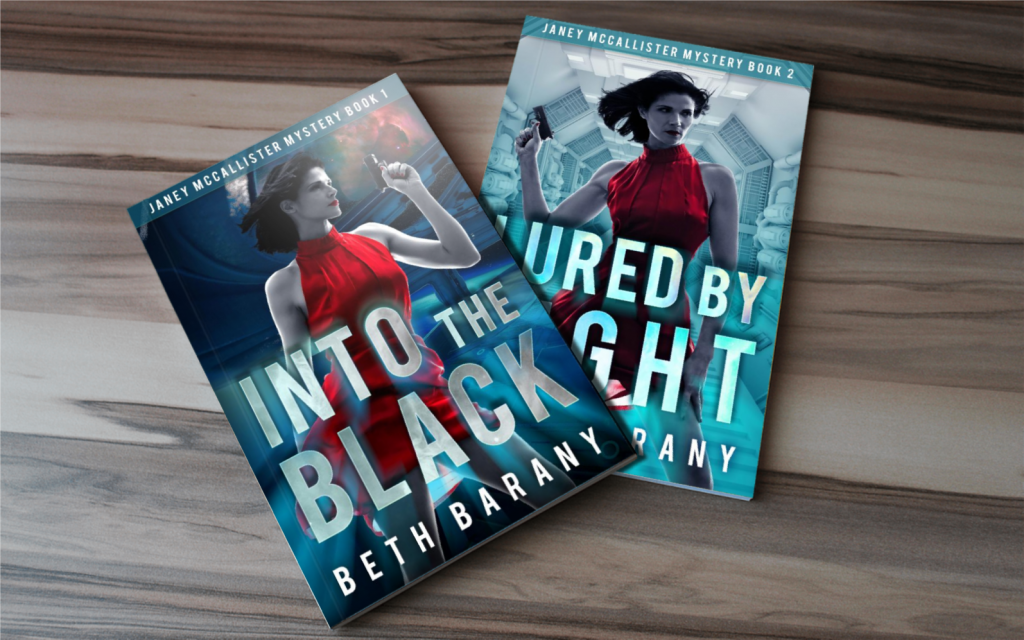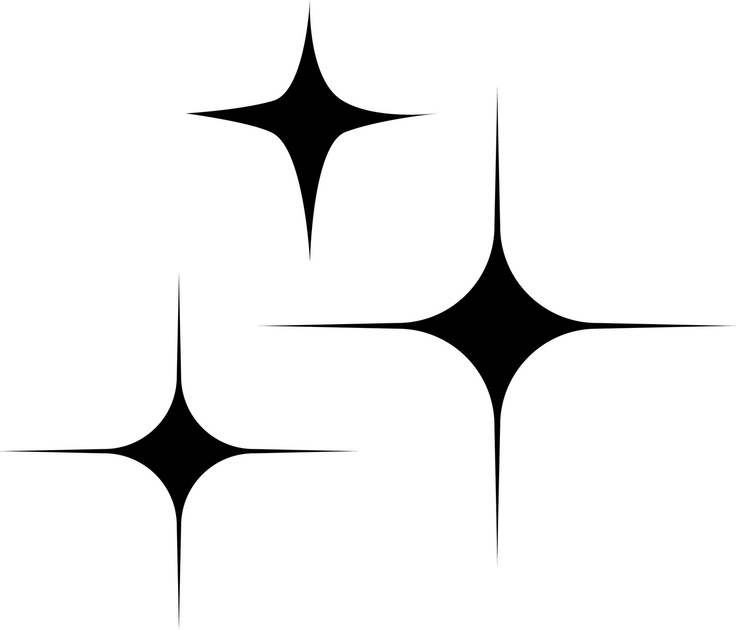 EXCERPT of Lured By Light
An excerpt from Lured By Light (A Janey McCallister Mystery, Book 2)
She said good-night to Faizah and stood up to go. Just then, from deeper in the casino, a young woman in a short, rainbow-sequined, barely-anything-there dress dashed past the bar. Fear tightened the young woman's mouth, her olive skin splotched red. Her short brown hair flopped in her bloodshot eyes as she pushed through the crowd, saying something Janey couldn't hear above the clamor of the huge room.
The young woman made barely a ripple in the boisterous, game-playing crowd, but Janey noticed her. She was trained to notice anything out of the ordinary, but this was more than different. This was startling. The young woman bore an uncanny resemblance to her best friend, Christine, who'd been dead for over four years now.
Time to intercept and find out why the young woman was in such a hurry and so distressed.
Janey rushed to interrupt the woman's trajectory toward the casino exit.
She strode through the crowd while her ocular implant ran a facial rec and dished her the woman's name and hotel registration: Amelia Gain. Her check-in date was seven days ago, her hotel registration and premium room service paid for by the Eshe Kamal Coffee, a corporate city-state inside of the Independent Empire of Ethiopia. She looked young, no more than twenty-three, but corporate often sent their staff to L'Étoile as a corporate perk or for bonus vacations. And five to ten percent of L'Étoile's guests came from Eshe Kamal Coffee.
Amelia's heart rate accelerated and her breathing shortened, all details Janey registered in a flash on her ocular implant in her right eye, which scrolled data continuously across the top of her visual field.
Janey was two arm lengths behind her, then one. Close enough to hear what the young woman was saying under her breath.
"Oh my god, no! No more. I can't…He can't…I won't…" Amelia's words burst out between sobs.
Near the slot machines at the casino entrance, Janey reached out to touch Amelia's shoulder to slow her progress and get her attention. "Can I help you?"
Amelia flinched from Janey's outstretched hand and shook her head. Tears streaked her cheeks. "No!" Her strident voice carried above the whine and buzz of jangling slot machines.
***
I hope you enjoyed the excerpt!
Grab your copy today!
Click this link or the image below:
https://books2read.com/luredbylight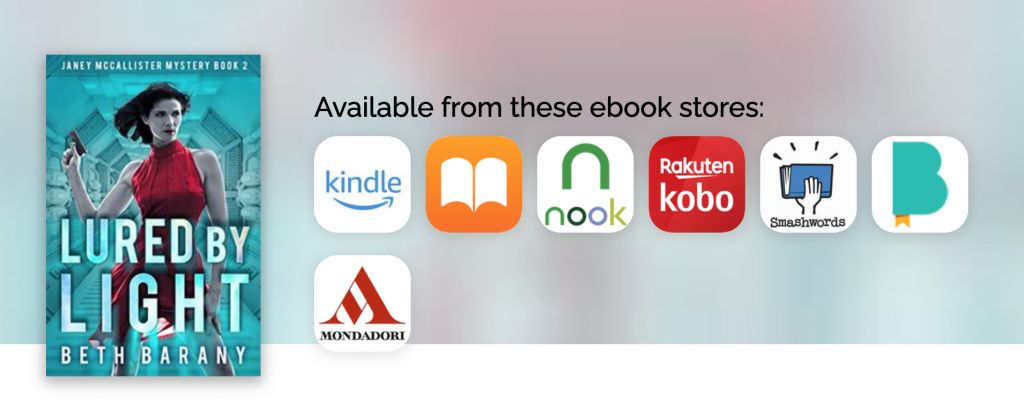 Get the book from the vendor of your choice…
Or click on these individual vendor links: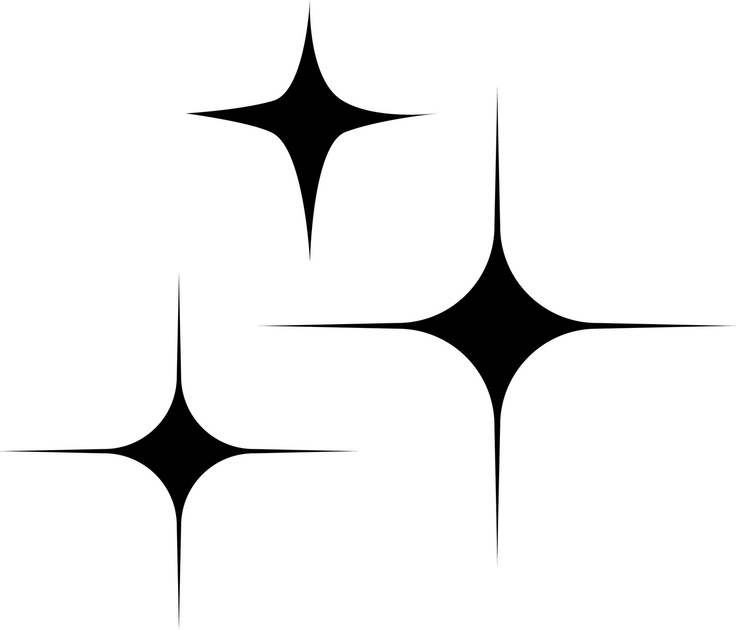 Books in the Janey McCallister Mystery series
Into The Black (Book 1)
Lured By Light (Book 2)
Gone Green (Book 3)
Red Running Deep (Book 4) (Coming Fall 2021)
---