Young Adult Fantasy
Henrietta The Dragon Slayer: A Very Short Prequel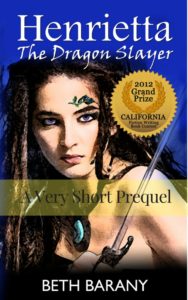 In this very short prequel, meet Henrietta the legendary Dragon Slayer before the grand adventure that changes her life. In which she meets mysterious fighters, recounts her tale in a raucous tavern of how she killed the Fire Dragon of Britham's Keep, and meets Jaxter the Jester.
Enjoy this peek at Henrietta right before all of thrilling adventures of this young warrior on one final quest … against an opponent she swore never to face again.
A story for those who want a taste before plunging into the adventure of Henrietta The Dragon Slayer (Book 1), Henrietta and The Dragon Stone (Book 2), and Henrietta and the Battle of the Horse Mesa (Book 3).
About 6,000 words long. Plus Chapter 1 of Henrietta The Dragon Slayer (Book 1).
Exclusive: For Newsletter Subscribers Only!
For your very own free copy, just sign up for Beth Barany's newsletter here.
Henrietta The Dragon Slayer series