You can read my romances in collections and anthologies, discover new authors, and save money!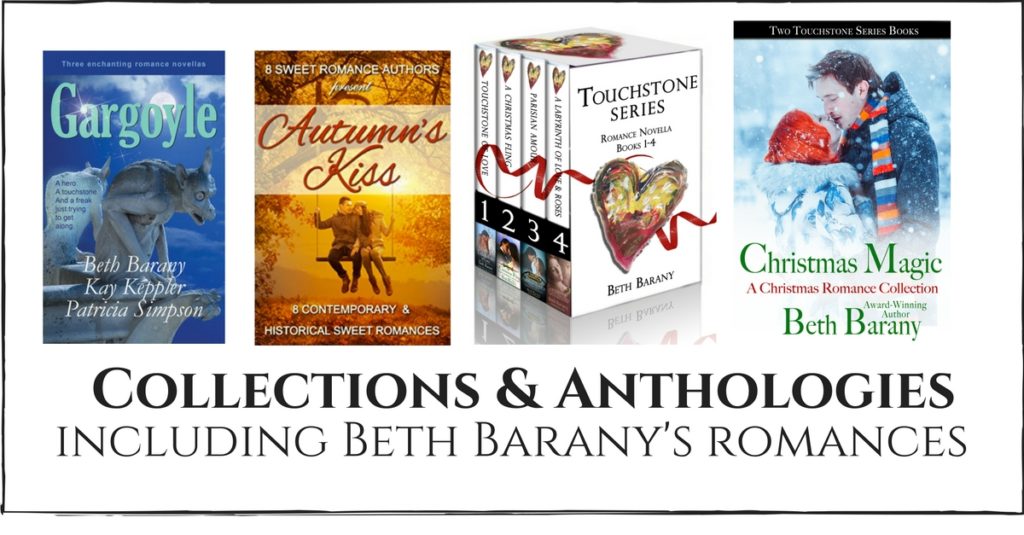 TOUCHSTONE SERIES, BOOKS 1-4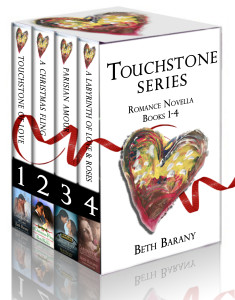 You can read the first four novellas and the bonus short story in the TOUCHSTONE SERIES.
To purchase and learn more about this collection, go here.
This book is available in ebook and print!
About the book
Travel to worlds where anything is possible—time travel to Medieval France; a cute Santa's elf hiding in plain sight in San Francisco; a mystery under the city of Paris that only love can unlock; and, love, destiny, and a labyrinth.
FOUR STORIES PLUS BONUS SHORT STORY
Four romance novellas and bonus short story in the TOUCHSTONE series, by award-winning novelist, Beth Barany.
A CHRISTMAS COLLECTION
Enjoy these Two Touchstone Series Books!
In this collection: 2 novellas for your Christmas reading pleasure!
A CHRISTMAS FLING and
A CUPCAKE CHRISTMAS
Amazon (US) | Or click here for all other Amazon Stores. (Click this link to be sent to your Amazon store automatically!)
---
ANTHOLOGIES
You can also read my work in other people's anthologies!
GARGOYLE: THREE ENCHANTING ROMANCE NOVELLA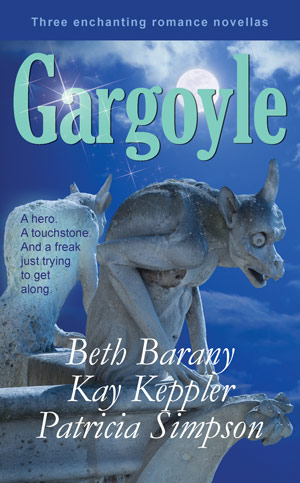 The mysterious lives of gargoyles.
They don't just hang out on buildings.
They right wrongs. They wreak havoc.
And they change the lives of unsuspecting people who never see them coming.
The hero…
Craig knows that Bea is in trouble. But Craig can't do anything about it—because he's a garden gargoyle and Bea can't hear his warnings. When unexpected visitors arrive to help, Craig finds the power he had all along. Now the neighborhood will never be the same.
The touchstone…
When a thunderstorm transports software expert Rose Waldman to thirteenth century France, she meets hunky stonemason Julien, who is secretly creating a gargoyle in defiance of his master mason. Can independent gadget loving Rose trust her life and heart to Julien, and can she really never go home again?
And the freak just trying to get along…
Sentenced to burn at the stake for sorcery, Merofled volunteers to help jaded warrior Alaric kill a gargoyle that threatens her village. But Merofled soon discovers the gargoyle is not a monster at all. It's a misfit just like her. Can she persuade Alaric to spare the gargoyle–and herself?
On Amazon worldwide. (Print and digital)

Barnes&Noble: print and ebook

Kobo (ebook)

Autumn's Kiss: Eight Contemporary & Historical Sweet Romances
Eight sweet stories of love.
Eight great authors.
Eight ways to celebrate Autumn.
Falling in love is timeless.
From a sexy medieval stonemason to a big city businessman — Regency England to Napa Vineyards, this selection of Historical, Contemporary, Paranormal and Time-Travel short romance stories is sure to capture your heart.
AUTUMN VOWS. Patricia Kiyono. Contemporary
For 30 years, busy wife and mother Yolanda Murray pushed aside her career for family. With the kids grown now, it's her turn. But her husband Craig needs surgery, and his worries extend far beyond his health issues. Will this couple survive the changes in the autumn of their lives?
CAROUSEL MAGIC. LaVerne St. George. Contemporary.
For Thomas Martin, feelings don't get in the way of business. As the new owner of an amusement park, he's determined to replace the old carousel with video games. Mayor Ginger Fairchild is equally determined to save the vintage carousel. Can the carousel's magic touch two more hearts?
THE FALL APPLES AND MR. CRAIGSON. Kathy Bosman. Contemporary
Trina knows most men are out for her money, so a fantasy rich husband acts as her shield. She hires attractive Seth Craigson to cut down unwanted trees, certain he won't discover her secret. As Trina's heart leans toward Seth, he sees past her lie. Does he accept her for herself or see only her wealth?
FALLING IN LOVE AGAIN. Beth Barany. Paranormal/Time Travel
Sexy Medieval stonemason Julien relies on his fiancée Rose to adapt to 21st century life and struggles to find his place in modern times. Holding down two jobs to support her and Julien in expensive San Francisco, software expert Rose has no time for romance. A weekend getaway may provide just the spark these time-crossed lovers need.
A HARVEST OF HOPE. Debby Lee. Historical
After putting away a crooked bootlegger, Meggie and Luke Preston set out for California, hoping for a second chance at life. When their past catches up with them, Meggie must find the courage to face the issues that have driven a wedge into her marriage… or she may lose everything.
RUNAWAY LOVE. Nicole Zoltack. Historical
After harvesting his crops, the last thing Corin Jannings expects is rescuing a woman tossed from a runaway horse. A woman who can't remember who she is. She's highborn, obviously, so it's only a matter of time before someone comes for her. And since she's a lady, Corin cannot dare risk falling for her.
SOFT BURGUNDY NIGHTS. Ruth Roberts. Contemporary
For the first time since she was abandoned, Jessica Rayne has a real home and her dream job as manager of Marchetti Vineyard. After ten years, Rafaele Marchetti has returned from New York, still bitter over his father's mistakes. Rafaele may take away everything Jessica's worked for… or make her dreams of love come true.
THE WITCHING WELL. Kristy Tate. Time Travel
Celia Quinn holds Jason West responsible for the demise of her grandmother's dress shop, so when she takes a sip of water from the witching well and is transported back to Regency England, Jason West is the last person she wants to see–or kiss.


Amazon US
Click here for all other Amazon portals.
---
:: Back to the Romance Books Page
:: Want the first book in Beth's Touchstone series free? Go here.
:: Support Beth's Fiction at Patreon