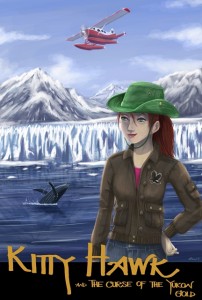 Please welcome Iain Reading share about kick ass heroines and his story, Kitty Hawk and The Curse of the Yukon Gold, in the Kitty Hawk Flying Detective Agency Series,  a new young adult series of adventure mystery stories.
***
For the past couple of weeks I've been thinking a lot about "kick ass heroines" in preparation for writing this guest blog post and just between you and me it's been giving me a bit of trouble.  I mean, what exactly IS a kick ass heroine?  I know one when I see one, that's for sure.  And I certainly hope that Kitty Hawk, the heroine of my own series of books is one.  But putting down on paper exactly what that means to me somehow proved elusive.
And then I finally figured it out with the help of a girl named Anna.
Let me set the scene for you.  Early morning out on the calm turquoise seas just east of the Florida Keys.  Miles from land and floating on a small boat carrying a handful of snorkelers to the outer reefs for a look around.  Sitting with me me is a family of four – mom and dad plus a teenaged boy and a young girl about nine or ten years old (Anna, of course).
After our first snorkel of the day (we spotted a million different fish, soft coral, sting rays, a bunch of barracuda and even a shark) we all crawled back on board for a bit of lunch before moving on to some other sites.  As the rest of us sat and chatted Anna decided that she wanted to jump into the water off the front side of the boat.  She wanted to, but was too scared to actually do it.  She stood there, staring down at the water, bracing herself to jump over and over again, but never actually doing it.
I was a bit confused, I must admit.  I mean, ten minutes earlier she'd been geared up and snorkeling like a pro with the rest of us – with a shark prowling around, no less, let's not forget.  But something about that jump clearly made her nervous and every time she bent her knees to finally do it I found myself cheering for her along with her family who were sitting next to me.
"Come on, Anna!  You can do it!"
And then she did it.  She bent down into a crouch, kicked out away from the boat into the open air beyond and plunged into the perfect blue sea below.
And that's when it came to me.  Like a bolt of lightning I suddenly realized that this was it – this was what made a real kick ass heroine!
Girls like Anna are the real kick ass heroines.  Every girl who conquers their fears, takes charge of their lives and gets out there to try and figure out the world.
As Kitty Hawk, my own book's kick ass heroine, would say: we are all the heroines and heroes in the stories that make up our own lives, aren't we?  And as Kitty gets in and out of all sorts of crazy and dangerous situations I always find myself looking up to her, admiring her, because she's exactly the kind of heroine that anyone can look up to.
So thank you, Anna.  You're the kind of kick ass heroine who reminds us that maybe we can all be kick ass heroines and heroes too.
About the Book:
Kitty Hawk and the Curse of the Yukon Gold is the thrilling first installment in a new young adult series of adventure mystery stories by Iain Reading. This first book of the Kitty Hawk Flying Detective Agency Series introduces Kitty Hawk, an intrepid teenage pilot with her own De Havilland Beaver seaplane and a nose for mystery and intrigue. A cross between Amelia Earhart, Nancy Drew and Pippi Longstocking, Kitty is a quirky young heroine with boundless curiosity and a knack for getting herself into all kinds of precarious situations.
After leaving her home in the western Canadian fishing village of Tofino to spend the summer in Alaska studying humpback whales, Kitty finds herself caught up in an unforgettable adventure involving stolen gold, devious criminals, ghostly shipwrecks, and bone-chilling curses. Kitty's adventure begins with the lingering mystery of a sunken ship called the Clara Nevada. As the plot continues to unfold, this spirited story will have readers anxiously following every twist and turn as they are swept along through the history of the Klondike Gold Rush to a suspenseful final climatic chase across the rugged terrain of Canada's Yukon. 
Kitty Hawk and the Curse of the Yukon Gold is a perfect book to fire the imagination of readers of all ages. Filled with fascinating and highly Google-able locations and history this book will inspire anyone to learn and experience more for themselves.
There are currently three books in the Kitty Hawk Flying Detective Agency Series available for sale on Amazon:
Kitty Hawk and the Curse of the Yukon Gold: http://amzn.to/JQjinN
Kitty Hawk and the Hunt for Hemingway's Ghost: http://amzn.to/KUcPc9
Kitty Hawk and the Icelandic Intrigue: http://amzn.to/1dcaumY 
***
About Iain Reading
Iain Reading is passionate about Root Beer, music, and writing. He is Canadian, but currently resides in the Netherlands working for the United Nations. Iain is currently working on the fourth book in the Kitty Hawk Flying Detective Agency Series, which will be released in 2014. For more information, go to http://www.kittyhawkworld.com/.