A Cupcake Christmas (Touchstone Series #5)
What if you risked losing your baking legacy by cooking up a love truly special?
Florian MacMillian needs a final job to complete his baking resume—preferably a job where he's unlikely to blow things up with his unruly magic—before returning to the North Pole and taking his rightful place as Master Baker to all the elves.
Kate Delore desperately needs help in her fast-growing cupcake business. Florian is a perfect fit, so she brings him on as baker. For a short time, Florian is happily up to his elbows in batter, and Kate's business is booming.
But when things heat up between them, Florian wonders if he should risk his legacy to cook up something truly special.
Title: A Cupcake Christmas (A Christmas Elf Romance) (Touchstone #5)
Author: Beth Barany
Amazon ASIN: B018W4GDW4
ISBN: 0989500470
Pages: 186 pages
Now Available at These Vendors
Print edition: Amazon (print)
(Other vendors coming soon. ISBN 978-0-9895004-7-0) (Publisher: Firewolf Books)
Also available in the 2-book collection, CHRISTMAS MAGIC.
What Readers Are Saying
"I truly enjoyed it. I am a sucker for anything Christmas and Santa related which probably didn't hurt. … Overall the story was light, charming and just right for a pleasant escape from the daily grind, kind of like a good dessert (yes, I love my sweets). I have to say this was my favorite of your romances I've read thus far…" — Beth Chapmon (Book Reviewer)
"I really enjoyed this story, it left me with a smile. It made me laugh, smile and feel good! Loved the Santa twist… totally unexpected! A good addition to the Christmas collection!" — Dodie Coe (Writer + Avid Reader)
"Did I feel attached to the characters? Definitely. Kate was cute, smart, and ambitious, cutting herself off and leaving me rooting for her to open up. Florian was mysterious, dark, and handsome and I obviously wanted more about him. That might just be me, though." — Alex King, A New Reader to Romance

"In Beth Barany's capable hands, you savor a delectable, charming, and captivating read. The story is romance, complete with sparkles of magic and joy, a well-wrought and captivating read." — Louise F., on Goodreads
Add to Goodreads
"Your deft, strong, individual writer's voice is a pleasure…"
"I wanted to gush on more about the strong, sturdy structure, about the logical flow, about the incredible magical realism …

If I may be so bold, let me declare that your deft, strong, individual writer's voice is a pleasure — and possibly the strongest and most confident I have come across in a very, very long time.

The pacing was fantastic — so well-done …

… how wonderful to find a writer who sees magic, grand adventure, marvels in everyday life!" — Louise F., reviewer
Read an Excerpt Here
Read an Excerpt here: https://author.bethbarany.com/books/a-cupcake-christmas-a-christmas-elf-story-romance/excerpt-a-cupcake-christmas/
Read about Florian's Sister in A CHRISTMAS FLING here (Touchstone #2)
Jump over to A Christmas Fling to check it out, read an excerpt, and purchase. Enjoy!
Read both Christmas romance in the Christmas Magic collection here.
The Stories in the Touchstone series
In order of the story timelines, but you can read the stories in any order.
1. Touchstone of Love: (A Time Travel Romance novella) (This novella first appeared in Gargoyle: Three Enchanting Romance Novellas) (#1)
2. Christmas Fling (#2)
3. Parisian Amour: (A novella in the Magical Tales of Romance & Adventure series) (#3)
4. A Labyrinth of Love of Roses (#4)
5. A Cupcake Christmas (#5) (This page!)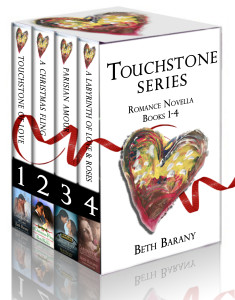 You can get the first 4 Touchstone books here.
Want to Stay in Touch? Let's! Subscribe Here:
If you'd like to be notified for more news about this book, and get the first book in this series free, go here to sign up.
You'll get a free romance story, my first in the series, Touchstone of Love (Touchstone #1).
Thanks to all the Bloggers and Reviewers for Sharing about A Cupcake Christmas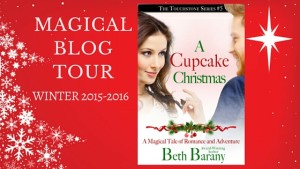 ---
:: Back to the Romance Books Page
:: Want the first book in Beth's Touchstone series free? Go here.
:: Support Beth's Fiction at Patreon