A Fairy Tale romance novella in the Touchstone Series
About the book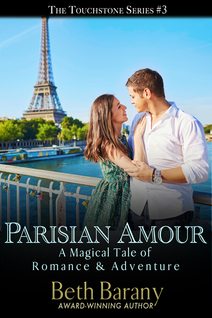 A sweet paranormal romance novella by award-winning author, Beth Barany.
"A Hallmark-type romance with a twist of magic!"
What if a dragon lived under the city of Paris?
Sarah Redman, a bank project manager up to her neck with work, wants some adventure in her life. A career opportunity in Paris seems like a dream come true, but once she gets there nothing goes as planned. The job interview she thought she wanted falls through and her dreams about a crying dragon trouble her. To top it off, she gets lost in the tunnels of Paris with a man who attracts her more than she wants to admit.
Trainer extraordinaire, Josh Kleine, needs to pull off a successful presentation at the Paris Transportation Conference to land more clients and save his company. But strange events in the tunnels under Paris drive him to distraction and into a strange, profound sadness. In search of answers under the city, he gets trapped below ground with a gorgeous woman who he desires like none before. But will the sadness tear him apart before he can convince himself and her that love does not only exist in fairy tales?
Together they may hold the key to the strange disasters striking the City of Lights. Can Sarah unravel the secrets of the city and of her heart in time to save them all?
***A short novel. This is a novella of approximately 20,000 words.***
Beth Barany writes magical tales of romance and adventure to transport readers to new worlds where anything is possible.

Where to buy the book
Amazon Kindle | Barnes & Noble Nook | Kobo | Smashwords | iTunes
Add to Your Goodreads List
What Readers Are Saying
"…a good mix of romance and fantasy…"
"…Josh and Sarah is a cute paranormal romance I would recommend!" — DJ on Amazon
"…a sweet bite of magic in the City of Love…"
"…This story is incredibly poignant in places and smoldering in others. …I loved how the romantic and paranormal sides came together in this story and everything is neatly tied up at the end. There are no loose ends with this novella. A beautiful story and a perfect book for any time of night or day." — Archeolibrarian
4-stars! "…A fairy tale romance with a bit of the supernatural. Sarah and Josh find themselves lost together in the tunnels of Paris. This was a short but imo a complete story. Dragons, lost love, and a historian story teller rounds out this book."
Character Crush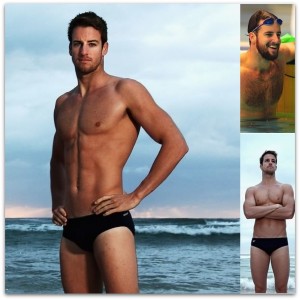 A blogger asked me, "What actor resembles my hero?"
So, I had to do some, ahem, research.
I found the delicious Olympic swimmer, James Magnussen, from Australia.
Here's my little photo collage for you… Click to enlarge. You know you want to!

More images that inspire Parisian Amour here: http://www.pinterest.com/bethbarany/paris-my-favorite-place/.
Excerpt
Dec. 1, Pont des Arts, Paris, France
A man walked by her, cell phone to his ear, speaking too low for her to hear. His double-breasted navy coat collar was turned up against the cold. With his white scarf tied in an aviator's knot around his neck, a seaman's cap low over his forehead, he seemed so French, almost like a character out of one of the Tintin stories. For a second, he glanced up at her and then did a double take. In the streetlight, his hazel eyes sparkled like he knew a naughty secret about her. Her heart sped up and her cheeks heated.
In the next instant, he passed by before he could see her blush. Thank goodness. But it was good to feel the surge of attraction.
And it was good to be doing something other than working and being alone in her apartment with her cactus and her books, or working and going out with the girls to the newest local restaurant. Or working and going on one of her camping trips with the all-women survivalist team. As exciting as those social activities were, they'd become routine.
A car horn blast blared from across the pedestrian bridge on the Left Bank, the opposite direction of her hotel. Just more snarling Parisian traffic, dealing with the rain and the late night. But it was new and different. She smiled. The start of a new chapter in her life, she hoped.
She yawned. But first she needed a decent night's sleep. She'd slept a little on her flight, but not nearly enough. She turned around before she got to the end of the bridge and headed back toward her cute hotel, tucked behind the church St. Eustache and next to Les Halles, where the famous central market used to be.
Halfway across the bridge, that was when she saw them. The locks, large and small, gym locks and safety locks, old-fashioned and new, decorated the entire iron siding of both sides of the walking bridge. In the lamplight, words were scribbled on the locks in what looked like indelible ink. She paused and knelt to examine one. Scrawled on the small space was a heart with the letters "S & J" inside the heart and the date of November 30, just the day before.
The "S" could have been her. She didn't have a "J" in her life, but maybe if she'd made room for a relationship, she could have.
Yesterday had been her thirtieth birthday.
Tears welled in her throat unbidden and unwelcome. She was now thirty and had no one to love. Love wasn't for her and relationships never lasted.
She stood and rubbed the pebble in her coat pocket. The small stone kept her grounded and reminded her of the Tehachapi Canyon where she liked to camp.
A flash of a dream came to her, one she'd had in the days leading up to her trip to Paris. In her dream, someone or something was weeping in a huge cavern, its cries echoing off the high ceiling and far walls—a creature crying with all its heart, as if it were tragically broken.
Sarah's heart ached for the creature.
Then a gust of cold air brought a sheet of rain into her face, snapping her out of the dream.
She hurried across the bridge back to her hotel.
Dreams were just dreams.
Dragons just existed in fairy tales.
She had her own adventure to create.
***
Collar up against the rain, cap low on his forehead, Josh Kleine strode across the bridge and cooed to his Bernese Mountain dog, Sally, at the other end of the phone line, back in Oakland, California. Then without warning, his best friend and housemate Liam took the phone away from his dog and teased Josh about his habit of talking to his dog, especially long distance.
"Whatever, man. You know I love Sally more than you. I gotta get some shut eye to get up early for the conference tomorrow," Josh said. "I'll call you later."
"Sure. Take care. And go meet some French women, will you? Sounds like you need to get laid."
"Hey, where did that come from? Speak for yourself." Josh shook his head.
Liam barked a laugh and clicked off the cell phone.
Josh slipped the phone back into his coat pocket and passed a beautiful woman strolling on the bridge. Under her hat, she had long brown hair flowing over her shoulders, seemingly not minding that her hair was getting wet. She had a faraway look in her eyes. In that moment, passing only a few feet away from her, he could swear that he smelled the hot air of roasting chestnuts. A whoosh of hot air surrounded him. He'd smelled and felt that the day before in the behind-the-scenes tour of the Paris Metro. Strange.
He wasn't underground in the Metro. He was on the bridge. With her.
He caught himself staring at the woman and glanced away. And sighed. Too bad. She was so his type—tall and gorgeous. He saw them—his arms around her, holding her close to him, those long legs that could wrap around his body… He did a double take.
Their gazes locked. His heart sped up.
She strode by, her boots clicking against the pavement.
The rain gusted.
It had been a long time since he'd been with a woman.
But that was on purpose. He always fell too hard, too fast, and the relationships always crashed and burned.
The last relationship had nearly ruined his business too. No. Relationships were bad news to his heart and his career. He didn't trust himself to make the right choices as far as relationships went. He'd let Melanie into his life and his apartment and his business. Then only months ago, she'd stolen his biggest client and dumped him, all on the same day.
He turned around toward the Left Bank. Time to get back to his affordable room he was renting in an apartment, located up the street from the conference near the Saint-Germain Boulevard.
He had to get up early to meet with his prospective clients and prepare his presentation for the transportation conference. He needed to get those clients to keep his consulting and training business afloat. He was still recovering from the Melanie disaster.
He had no time for women, French or otherwise.
Thanks for Reading!
You were just reading the beginning of Parisian Amour, Book 3 in the Touchstone series. If you'd like to read the rest of the story, click here to purchase. Thank you for being a reader!
The Stories in the Magical Tales of Romance & Adventure series
In order of the story timelines, but you can read the stories in any order.
1. Touchstone of Love: (A Time Travel Romance novella) (Touchstone Series #1)
2. Christmas Fling (A Christmas Elf novella) (Touchstone Series #2)
3. Parisian Amour: (A FairyTale-inspired novella) (Touchstone Series #3)
4. A Labyrinth of Love of Roses (A FairyTale-inspired novella) (Touchstone Series #4)
5. A Cupcake Christmas (A Christmas Elf novella) (Touchstone Series #5)
---
:: Back to the Romance Books Page
:: Want the first book in Beth's Touchstone series free? Go here.
:: Support Beth's Fiction at Patreon