Today I welcome Author Holly Barbo as she stops by on her book blog tour promoting her book, The Unraveling, a YA fantasy with a kick-ass heroine with attitude. Be sure to scroll all the way down to enter Holly's fun giveaway that ends soon. Enjoy!
***
There are several components necessary for a reader to fall in love with a book. The way they relate to the main character is one of them. When that protagonist is female I like her to be strong: kick-ass with attitude!
It is essential for her to be believable and compelling in her complexity. She has moments of uncertainty and doubt, but can move through those times, with a determined step forward into the daylight of confidence. She has an intelligence that allows her to extrapolate solutions and a focused mindset that gets things done. Though she can physically hold her own in challenges, our heroine can be subtle in using guile when she needs to.
This admirable protagonist is not so headstrong that she doesn't listen to advice. Decisions are ultimately hers to make, and she weighs the counsel with that in mind. She can adapt and learn and has the courage to face her fears. As for the kick-ass with attitude? This gal will not be lied to or belittled! Characteristics like these will pull you into a story and delight you with every page.
Anne McCaffrey had several admirable kick-ass heroines who I've loved, rereading the books until the edges were dog-eared. Lessa in the Dragon Riders of Pern series, was petite, full of fire and rode the largest dragon on the planet. She was an intelligent young woman who had endured life-threatening danger by disguising herself and surviving by her wits.
The uniquely talented Menolly was very unappreciated. She had the courage to escape the pigeon hole she was being forced into and, with the help of some devoted fire lizards, found her niche in her world. It wasn't easy but she triumphed.
When Killashandra's dreams were shattered, she grasped what opportunity she was given and reinvented herself with outstanding success and happiness. It meant leaving a life she knew and entering a very hazardous occupation but she did so with focus and courage.
In my Sage Seed Chronicles: The Unraveling, Erin is a kick-ass heroine and continues to be in the next two books. Her parents have been murdered and she is fleeing the killer. Frightened, she runs to an old friend of the family for advice. While there she realizes the choices are hers. Homeless, our protagonist becomes a gypsy, of sorts, making a home where ever her companions are. Stepping up to the challenge of staying alive and learning why her folks were killed, she disguises herself as a boy.In that capacity, Erin leaps out of moving wagons, wrestles stampeding horses to a stop and faces down the murderers. Though this young woman has others around her working the puzzle, it is Erin who puts the pieces together and does the heroic acts, earning her a place in her fellow character's hearts…and in ours.
Erin's world is a different planet from ours but I based it on areas I know well. The only exception to that is Scotland. I not only wrote in several standing stone hedges but I sprinkled in references to Celtic designs and motifs. It would be cool to visit Scotland.
I completely enjoyed writing Erin in all of her facets. There are a few times when she flashes her temper at people who are being less than honest or trying to "put her in her place." I cheered at those eloquent moments. No one was going to take that young woman for granted! Kick-ass!
***
Blog Tour Link: http://wp.me/p30w17-iz
ABOUT THE UNRAVELING BY HOLLY BARBO
Erin's parents are murdered and she can sense that same malevolent energy hunting her down. With little time to grieve, Erin is forced into hiding and discovers an unusual ability she's never had before — she can talk to animals!
With the help of her new found animal companions, she eludes the killer. Disguising herself as a boy, she joins the Autumn Gathering and is able to concentrate on the questions she needs to solve: Who killed her parents? Why are they trying to kill her, too?
Quakes, storms, and murders begin plaguing Erin's world and she soon realizes that they're all connected. The fabric of her world is just beginning to unravel…
Add the book to Goodreads: http://www.goodreads.com/book/show/16691604-the-unraveling
 Buy links:
Amazon: http://smarturl.it/hlblxu
Barnes and Noble: http://bit.ly/1bs7pga
iTunes: http://smarturl.it/16ef3d
Kobo: http://bit.ly/ShMx6h
Smashwords: http://bit.ly/UC4A88
About the Author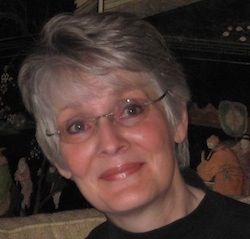 Holly Barbo's world is shaped by her love of her family, the beauty of the natural world in Northwest Washington State and an irrepressible creative drive.
Living where the scenery is incredible with a rich abundance of wildlife "is so special and soothing that it feels like a quiet kind of magic," according to Barbo. She is drawn to creating stories where there is just a bit of something unworldly, perhaps it is magic or psychic skills. Her stories are mostly in non-urban settings and usually have some focus on nature, building a discordant drama inside the peaceful frame.
Social media links:
Website: http://hollybarbo-books.com/
Facebook: http://www.facebook.com/pages/Holly-Barbo/249101148537523
Pinterest: http://pinterest.com/hollybarbo/
Twitter: http://twitter.com/HBarboWriting
Click here to Enter Holly's Awesome Giveaway! 3 Prize Packs!
Giveaway rules to post before widget: Giveaway is open internationally and ends on September 27, 2014 at 11:59 PM EST. No purchase necessary. You must be 18 or older to enter or have your parent enter for you. The winners will be chosen randomly via Rafflecopter and announced on the widget as well as emailed; winning entries will be verified prior to prize being awarded. They will have 48 hours to respond. Failure to respond will result in a new winner being selected. This giveaway is in no way associated with Facebook, Twitter, Rafflecopter, or any other entity unless otherwise specified. Number of eligible entries received determines odds of winning. **If audiobooks cannot be downloaded via Audible for whatever reason, winner of audiobook prize pack will be given the Sage Seed Chronicle ebook set as an alternative.** Giveaway was organized by Paper Crane Books and sponsored by both the press and the author. Void where prohibited by law. Your information will not be sold or shared and will only be used for the purpose of contacting the winner.