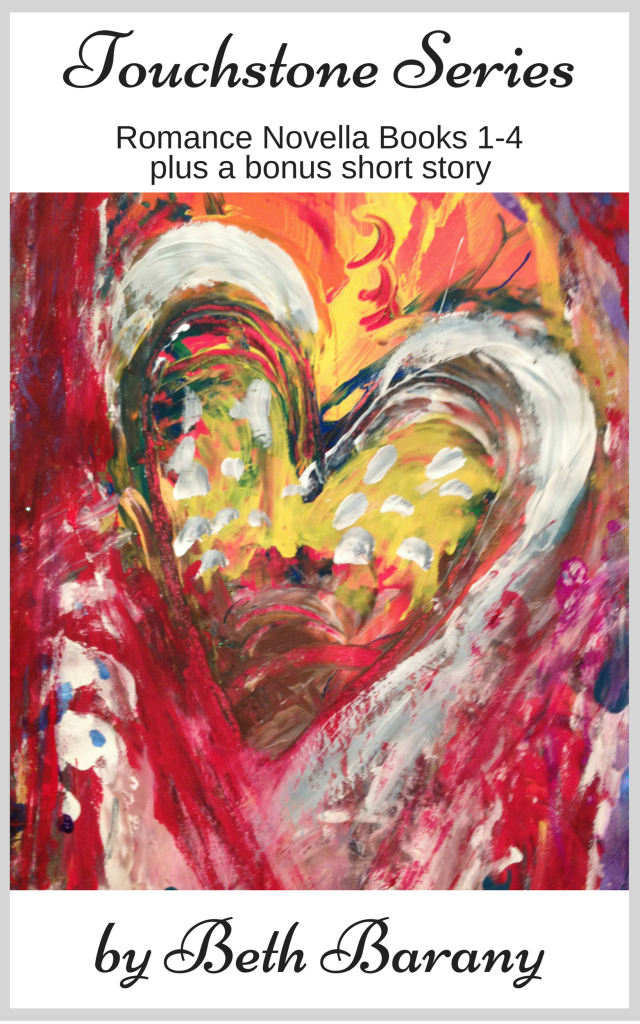 Celebrating today on Facebook: Touchstone Series, Romance Novella Books 1-4 (Plus Bonus Short Story)
Join us for fun, goodies, giveaways, surprises, and more fun!
SCHEDULE for the FACEBOOK PARTY (Pacific time zone)
10am: Beth Barany, Guest of Honor
11am: Celia Breslin, author of DIAMOND MOON, in her Black Hills Wolves series
12noon: Terra Kelly, author of THE WINTER FAMILY SERIES
1pm: Pamela Taeuffer, author of SHADOW HEART
2pm: Carol Malone, author of LADIES NIGHT
3pm: PJ Ferguson, author of THE SHORTCUT TO HAPPINESS
4pm: Beth Barany again!
TOUCHSTONE Series is on Sale for $2.99 until Friday, April 24th. http://amzn.to/1ye0yGW
Get 4+ stories for the price of 1 book!
Touchstone Series: Romance Novella Books 1-4, plus a bonus short story by Beth Barany
http://amzn.to/1ye0yGW
More details about Beth's romances here: https://author.bethbarany.com/romance/
ABOUT
Travel to worlds where anything is possible—time travel to Medieval France; a cute Santa's elf hiding in plain sight in San Francisco; a mystery under the city of Paris that only love can unlock; and, love, destiny, and a labyrinth.
FOUR STORIES PLUS BONUS SHORT STORY
Four romance novellas and bonus short story in the TOUCHSTONE series, by award-winning novelist, Beth Barany.
TOUCHSTONE OF LOVE
A time-travel romance. When a thunderstorm transports software expert Rose Waldman to thirteenth century France, she meets hunky stonemason Julien, who is secretly creating a gargoyle in defiance of his master mason. Can independent gadget loving Rose trust her life and heart to Julien, and can she really never go home again?
A CHRISTMAS FLING
A Christmas Elf romance. What if falling in love put the life you cherished in jeopardy?
Dahlia, a Santa's Elf, has 21 days left before Christmas to create the best toy in the world without using magic or revealing her true identity. Stuck on how to complete the prototype, and working as a temp in San Francisco's financial district with no time for love, will her Christmas fling get her unstuck, or will she turn her back on her beloved career for her heart?
Liam, an up-and-coming financial analyst, swore off women after getting dumped by the love of his life. He just found out his ex is going to the company Christmas party with his rival Michael Hendricks. Up for promotion against Hendricks, Liam has to win the favor of his boss. His best bet is to invite the vivacious secretary Dahlia to the party. Will Dahlia be a welcome distraction, or will she turn his life upside down?
PARISIAN AMOUR
A Fairy Tale romance. Sarah Redman, a bank project manager, wants adventure in her life. Trainer extraordinaire, Josh Kleine, needs to pull off a successful presentation at a Paris conference to land more clients and save his company. Together they may hold the key to the strange disasters striking the City of Lights. Can Sarah unravel the secrets of the city and of her heart in time to save them all?
A LABYRINTH OF LOVE AND ROSES
A Fairy Tale romance. What if what you wanted got in the way of your destiny? French MBA grad Lili Grenault needs to succeed at her last pitch meeting to fund her international green tech business. But her grandmother tells her to drop everything, find her one true love, and embrace her magical legacy by Beltane, in one week, or chaos and failure in her life will ensue.
San Francisco investor Brett Barnaby wants to find his great-grandfather's gravesite in Amiens, France, one of the primary battle sites of World War I. Family legend says that purpose, greater mission, and perhaps even untold riches, will be unlocked when he finds that grave. But his search in Amiens brings up fear, anger, and dire warnings about some wild Green Man. He turns to local Lily Grenault for help.
Can these two independent freethinkers work together to prevent chaos from triumphing and find love in time in the labyrinth of roses?
And BONUS short story: FALLING IN LOVE AGAIN
A time-travel-esque romance. Sexy Medieval stonemason Julien has to rely on his fiancé. Rose to adapt to a 21st century life, to learn English, and find his place in a modern world. Software expert Rose has no time to spare with two jobs to support her and her fiancé Julien in expensive San Francisco. Will a weekend getaway rekindle the spark so these two time-crossed lovers can fall in love again?
TOUCHSTONE Series is on Sale for $2.99 until Friday, April 24th. http://amzn.to/1ye0yGW