SPECIAL OFFER — GET A FREE COPY OF BOOK THREE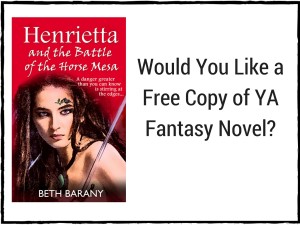 Would you like a review copy of Henrietta and the Battle of the Horse Mesa (Book 3 in the Henrietta The Dragon Slayer series) (exclusive pre-order on iBooks) before anyone else?
All you need to do is post a review of Henrietta The Dragon Slayer (Book 1) (iBooks link) AND Henrietta and the Dragon Stone (Book 2) (iBooks link) on any of the online vendors and send me the links by May 15, 2016.
Other vendor links for Book 1 here and Book 2 here.
Then I will add you to the special advance review list for Book 3 and send it to you as soon as its available, mid May 2016.
Thanks for being a Henrietta the Dragon Slayer fan!