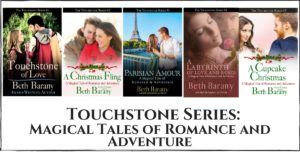 Which of my five romances should I send to my Danish publisher to translate?!
Yes, I have a Danish publisher and they are considering either Henrietta The Dragon Slayer or one of my romances.
I've sent them Henrietta to consider. Now I need to choose a romance for them to consider.
I want to send them the one that's a reader favorite.
So instead of guessing, I thought I'd ask you!
To help me out, take this very short survey:
Click here to take a very short Google survey.
Simply rank the five romances in the order you like them best. I know — a hard choice! I love them all equally!
Or copy and paste this link:
https://goo.gl/forms/rq1EhLvH3Ggi1zrz2
As a thank you gift, I'm offering you an ebook copy of Touchstone of Love (Touchstone #1).
Please reply by Friday, June 30th, 9pm PT.
That is when I promised the publisher I'd send me the book to read during her summer vacation.
UPDATE: Replies are coming in! Aren't these bar graphs pretty?!

PS. This same publisher is distributing all my fiction to subscription services around the world. More on that later!