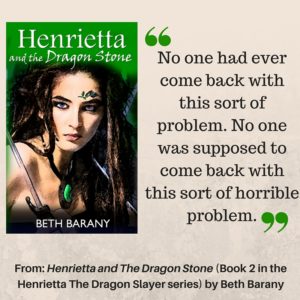 "Ambushes, magic, dragon stones, and mystery, a lot is afoot in Henrietta and the Dragon Stone… Henrietta is a wonderful role model as a heroine, as we watch and come along she grows from an unconfident girl to a more assured young woman." — Chris, a reviewer
Role models are important.
We learn from those around us and from the stories we read.
Henrietta doesn't set out to be a role model. She just struggles to do what's right for the ones she loves.
You can learn more about Henrietta and The Dragon Stone, Book 2, here.
Or jump to the first chapter excerpt here.
ABOUT THE AUTHOR
Award winning author, Beth Barany writes in several genres including young adult adventure fantasy, paranormal romance, and soon science fiction mysteries. Inspired by living abroad in France and Quebec, she loves creating magical tales of romance, mystery, and adventure that empower women and girls to be the heroes of their own lives.