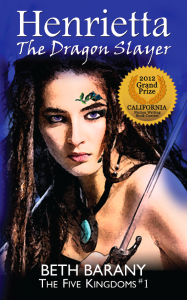 Hello my friends! Welcome to weekly news from the Desk of Beth Barany, award-winning YA fantasy and paranormal author.
I write for teens because I'm passionate about empowering young adults at this important transition time.
How appropriate it was then that today that I received a personal note from Angie Hoard requesting books for the at risk youth she works with in Georgetown, Texas at the Williamson County Juvenile Academy.
I responded immediately and am shipping my YA fantasy novel, Henrietta The Dragon Slayer, to her pronto.
She is looking to build her library to 1,000 books, and I offered to help her by spreading the word to other authors who write for teens.
Let's work together to make Angie's dream come true to discover that reading is an empowering choice!
Read Angie's request and if you're so moved to donate a book, email me directly and I will send you her address and email.
Thank you!
Here's Angie's request:
I am a reading teacher in a facility for at risk youth.  I have students between the ages of 12-18 who have never read a complete book.  I am trying to build up my class library with books that will hook some of my nonreaders and make avid readers out of them.  I am doing this out of my own pocket, as our school budget has been allocated to other things more important than READING!!!!  Do you donate to such as causes as at risk schools?  Thank you ahead of time for your consideration.  Sincerely and thank you, Angie Hoard
 Angie followed up a few weeks later with this note:
Thank you again, for all of your help in spreading our cause….the books are making a huge impact but the fact that adults care enough to send them books is touching their hearts!!!  Angie
Update: If you'd like to donate books to Angie, her organization's address is here.
Action to take: If you'd like to propose an organization that helps teens and needs books, please let me know! More information on my For A Good Cause page.