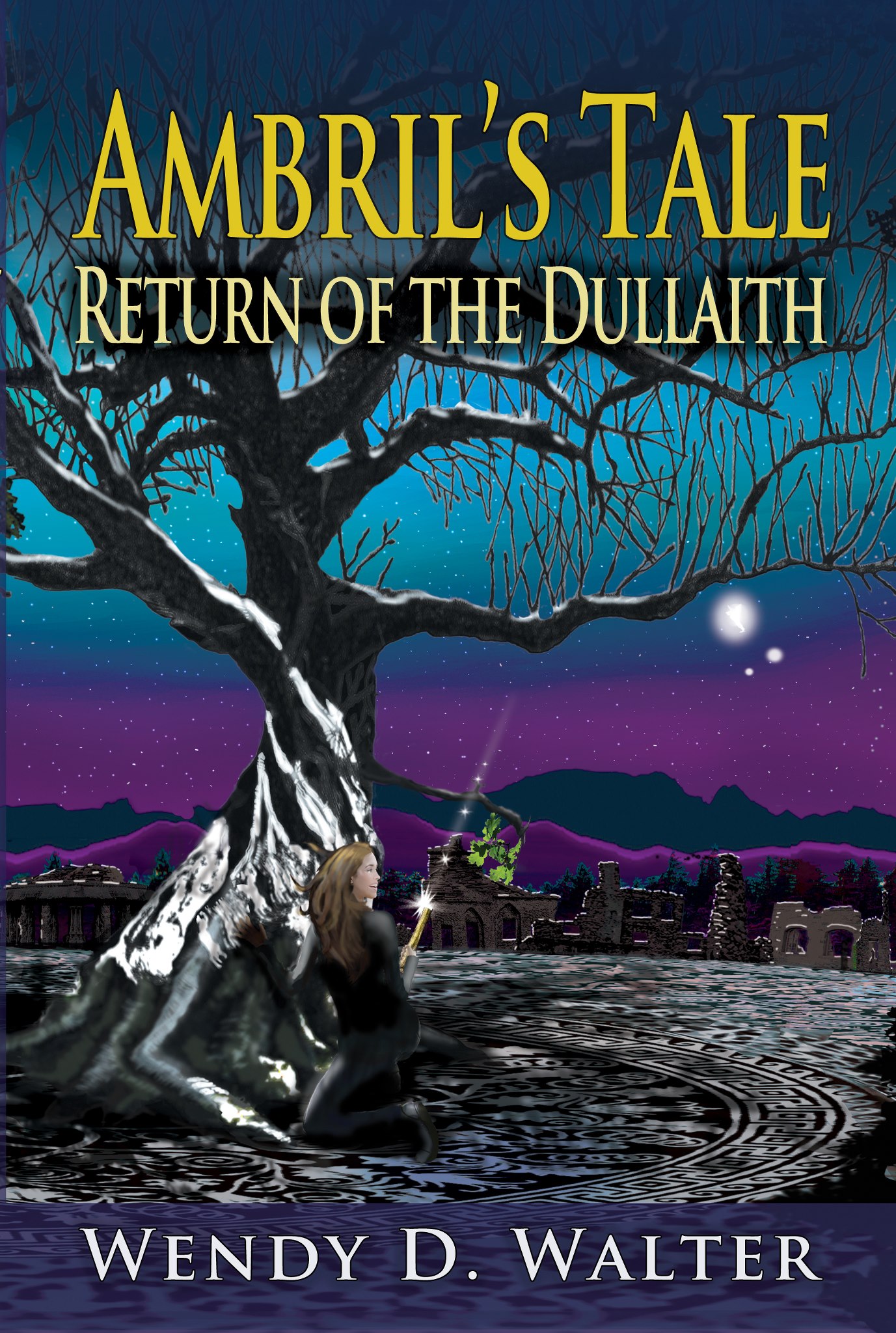 Today we have a special guest post from YA fantasy author, Wendy D. Walter, on three tips for writing fantasy. Enjoy! And read to the end for details on how to enter her special giveaway for fun and prizes and a free copy of her book!
***
Tip #1: Keep it real…sort of
There has to be a balance, a connection to reality, for fantasy to work.
Don't get me wrong, Ambril's Tale is full of fanciful beings, but each and every one has a purpose, each one has a part to play in the story.
If I really let myself put in all the fantastic creatures that I dream up, it would make everyone nauseous. Sort of like a conversation with one of those old ladies on the bus who are still in their bathrobes and want you to sing showtunes with them. Overblown fantasy gives everyone indigestion. So, my friends, no gratuitous magic!

On the opposite end of the fantasy spectrum, there are some who masquerade as fantasy writers. They throw in a little fantasy, at the last minute, to dress up their murder mysteries, thrillers and romances with ill-fitting fairy wings and vampire fangs. But we can tell, can't we?
Fantasy lovers can tell the difference between hastily applied zombies and a real, live dystopia. So write in just enough fantasy, no more.
Tip #2: It's OK to be weird
The reason that I write fantasy has more to do with the fact that I studied architecture than anything else. Weird, right? Architecture is very finite and structured while fantasy is downright fanciful. But when you actually do both of them, you realize that the brain processes used in both arenas are one and the same. Because both designing a kitchen, and building a fantasy world requires intense, three dimensional creativity.
I happen to call it frolicking, because that's what it feels like.
If you're like me, let me put an end to your suffering. Your brain isn't flawed, it's just different.
Building fantastic worlds for other people to frolic in is not something to be ashamed of. So, yes! Be proud to say that you have mega-wattage day dreams that translate into twisty, imaginative stories.
Writing fantasy truly makes me happy, I hope it does you as well. So go ahead and let all those folks in suits judge you, just before they look at their watches and race off to hit another deadline.
We'll just smile and wave, and then go back to frolicking.
Tip #3: When you're characters tell you your breath stinks, it's a good thing
One more thing, and this applies to writers of all genres.
Something occurred mid-way through writing Ambril's Tale, Return of the Dullaith.
Something that changed everything for me.
I woke up one day and discovered that my characters had come alive. fLit was sneezing; he had a cold. I had to tell Ygg to change his shirt; it was torn. And Hendoeth told me to brush my teeth because my breath smelled icky.
And that was just the beginning. Every day since then, my characters have grown and changed. They tell me about their lives when I sit down to write. Sometimes they even dictate scenes to me! Of course we have arguments…they generally win.
You may think that all this must be very annoying. But, in fact, it's wonderful fun.
I'm always very patient with them because, when my characters came alive, they gave me one of the greatest gifts that I have ever received. The certain knowledge that I would finish Ambril's Tale.
And that after that, I'd write another world, and then another. For it was at that moment, I knew that I had become a writer.
Send me an email about the day you woke to find one of your characters sitting on your dresser and picking his teeth. We'll celebrate together.
***
About Ambril's Tale, The Return of the Dullaith
Fourteen-year-old, Ambril struggles with the mystery surrounding her father's death when she moves back to the mysterious town where she was born. When she accidentally uncovers a secret which threatens to destroy her entire family, she continues her quest, against all odds, to clear her father's name. But will she be able to claim her magic and and heal the rifts in her family?
Ambril's Tale, The Return of the Dullaith has received great 4-5-star reviews. Readers are impatiently demanding Book Two, which will be out early Spring 2013.
Giveaway Info
At each blog stop on her tour, Wendy is giving away a prize, a copy of one of her books (paperback or e-book). Comment below to enter!
Also you can enter her End-of-Tour Grand Prize Giveaway of a hand-painted gnome, hand-painted by Wendy herself!
There will also be some surprise giveaways along the way! Stay tuned!
1) To win a book: leave a comment on this blog post about where your favorite house is located to be entered to win a copy of Ambril's Tale: The Return of the Dullaith in paperback or e-book format.
Be sure to leave your email address in the comments so we can contact you if you're the lucky winner. This giveaway ends five days after the post goes live.
2) To win one of the Grand Prizes: Click the link to go to Wendy's website here: http://wendydwalter.com/blog-tour/ and enter the Rafflecopter at the bottom of the page, or use the Rafflecopter link below. Here's Wendy's site: .
About The Author: Wendy D. Walter
Writing was an early passion for Wendy. As a kid, she wrote lots of stories, but being shy, they usually ended up under the mattress. When she finally set out to tell Ambril's Tale, she decided not to write a story but a world, full with her own marvelous illustrations. She considers The Return of the Dullaith as just the curly tip of the fairy boot. Wendy lives near San Francisco with her husband, daughters, cat and border collie. More information about Wendy's book and art, check her site: http://wendydwalter.com.