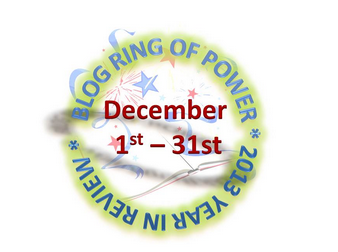 Early this year I participated in a special kind of blog hop with science fiction and fantasy women authors, like myself. Now we've all gathered for together to reflect what we've done this year and to reflect on what we have ahead.
Prizes
ebook copies of Render (A story of Aligare) by Heidi Vlach (3 copies)
ebook copy of Home World by Bonnie Milani and ebook copy of Trades by Bonnie Milani
ebook copy of Nefertiti's Heart by A. W. Exley
$25 Amazon Gift Card from T. J. Loveless
paperback copy of Going Thru Hell by T. J. Loveless
ebook copy of Medusa's Desire by E. B. Black
signed hardcover first edition of In Retrospect by Ellen Larson
paperback copy of Bad Apple by Kristi Petersen Schoonover (2)
paperback copy of Skeletons in the Swimming Hole by Kristi Petersen Schoonover (2)
ebook copy of Grave Intentions by Lori Sjoberg
copy of Henrietta the Dragon Slayer by Beth Barany (print for U.S. or ebook for Int. winner)
$10 Amazon gift card from Terri Bruce
ebook copy of Twinned Universes by Sandra Ulbrich Almazan
ebook copy of Entwined Courage by Tracy Lane
ebook copy of Kindar's Cure by Michelle Hauck
signed paperback of Ice Forged by Gail Martin
ebook copies of "Taste" "Reaping Me Softly" & "Unreap My Heart" by Kate Evangelista
ebook copy of "Romancing the Bookworm" by Kate Evangelista
            Get to know new authors and follow us around during this special Ring of Power.
Schedule
Anne E. Johnson – December 4th @ www.terribruce.net Beth Barany – December 18th @ www.terribruce.net Lauren Jankowski – December 19th @ www.twfendley.com Jennifer Allis Provost – December 20th @ www.emlabonte.blogspot.com Juli D. Revezzo – December 24th @ www.vickilempweavil.com   
A list of all the bloggers participating: Visit them all for the giveaways!