Hello my friends! Welcome to weekly news from the Desk of Beth Barany, award-winning YA fantasy and romance author.
Through my stories, I want to empower women and girls to be the heroes of their own lives and transport readers on magical tales of romance and adventure to new worlds where anything is possible.
'Tis the time of year for giving. I just donated to School Donation Program at PaperbackSwaps.com. More on my Donation campaigns here.
I'm a huge advocate for featuring strong young women in young adult fantasy. I commented on a post on the topic here: http://www.kindlepost.com/2013/12/artemis-and-the-woman-in-sf.html. Come join the conversation.
I'm doing an Amazon gift card giveaway here: http://practicalfrugality.com/gargoyle-three-enchanting-romance-novellas-30-amazon-gc-giveaway-ends-1222/. Hurry! Giveaway ends Dec. 22nd!
Drumroll please!
Here's the cover for my next romance novella, coming December 11, 2013 to Amazon. And to other retailers soon after.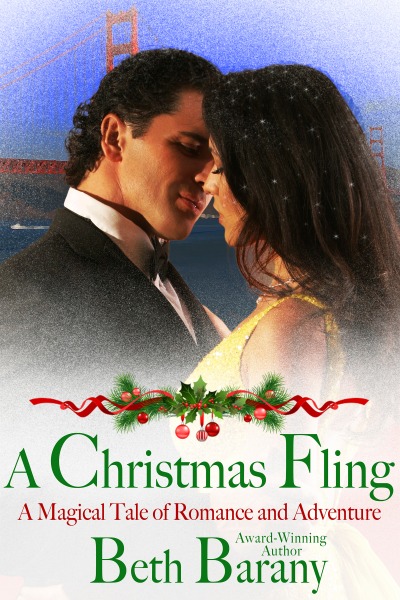 Dahlia, a Santa's Elf, has 21 days left before Christmas to create the best toy in the world without using magic or revealing her true identity. Stuck on how to complete the prototype, and working as a temp in San Francisco's Financial district, with no time for love, will her innocent Christmas fling get her unstuck, or will she turn her back on her beloved career for love?

Liam, an up-and-coming financial analyst, swore off women after getting dumped by the love of his life. He just found out his ex is going to the company Christmas party with his rival Michael Hendricks. Up for promotion against Hendricks, Liam has to win the favor of his boss. His best bet is to invite the vivacious secretary Dahlia to the party. Will Dahlia be a welcome distraction, or will she turn his life upside down?
Be sure to sign up for my mailing list to be notified when this book is published.
Event: December 12th
Free to readers! My husband, bestselling thriller writer Ezra Barany, and I will be meeting readers at this new event for local independent authors. Come by and say Hello! Click here to find out more and join us.
Where: Impact Hub Oakland, 1423 Broadway Street, Oakland, CA.
When: Thursday, December 12, 2013 from 6:30 PM to 9:30 PM (PST).
Hosted by: By Oakland Authors, Cheryl Derricotte & Tim McAtee.
Register: Here
___
Giveaways
Contact Beth
Sign up for Beth Barany's Author Newsletter
Donate for a Good Cause
Join Beth Barany's Street Team