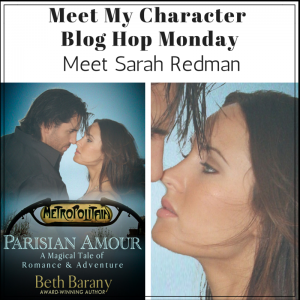 Hi and Welcome to the Meet My Character Monday Blog Hop! This week I'm going to introduce you to Sarah Redman, the heroine of Parisian Amour, my third novella in the series. (The four novellas are listed in order here.)
What is the name of your character? Is he/she fictional or a historic person?
Sarah is the hero, or if you like heroine, of Parisian Amour. She's fictional, sprung from my fertile imagination.
When and where is the story set?
The story is set in one of my favorite cities in the world, Paris, France, in contemporary times during a stormy December.
What should we know about her?
Sarah is a serious, hard-working, professional woman guy. She loves the outdoors, hanging out with her girlfriends, and going on survivalist trips and tested herself against the environment. In other words, one of her hobbies is going on adventures.
What messes up her life?
She's bored and wants a change and thinks that change will be a new job in Paris. But that job falls through and her life changes.
What is the main conflict? 
In Parisian, Amour, Sarah gets lost in the tunnels of Paris with a man, Josh Kleine, who attracts her more than she wants to admit. And she doesn't believe in love, thinks the attraction is a distraction to finding their way out, and doesn't want to admit to anything paranormal happening.
What is the personal goal of the character? 
She wants an adventure, but one she can understand.
Where can we read more about it? 
Check out an excerpt here. You can purchase the novella from these vendors:
Amazon Kindle | Barnes & Noble Nook | Kobo | Smashwords | iTunes
ABOUT Parisian Amour
"A Hallmark-type romance with a twist of magic!"
What if a dragon lived under the city of Paris?
Sarah Redman, a bank project manager up to her neck with work, wants some adventure in her life. A career opportunity in Paris seems like a dream come true, but once she gets there nothing goes as planned. The job interview she thought she wanted falls through and her dreams about a crying dragon trouble her. To top it off, she gets lost in the tunnels of Paris with a man who attracts her more than she wants to admit.
Trainer extraordinaire, Josh Kleine, needs to pull off a successful presentation at the Paris Transportation Conference to land more clients and save his company. But strange events in the tunnels under Paris drive him to distraction and into a strange, profound sadness. In search of answers under the city, he gets trapped below ground with a gorgeous woman who he desires like none before. But will the sadness tear him apart before he can convince himself and her that love does not only exist in fairy tales?
Together they may hold the key to the strange disasters striking the City of Lights. Can Sarah unravel the secrets of the city and of her heart in time to save them all?
***A short novel. This is a novella of approximately 20,000 words.***
Beth Barany writes magical tales of romance and adventure to transport readers to new worlds where anything is possible.
Visit the other authors on today's Meet My Character Monday Blog Hop
Now here are 4 wonderful writers you should know as part of the Meet My Character Monday Blog Hop: