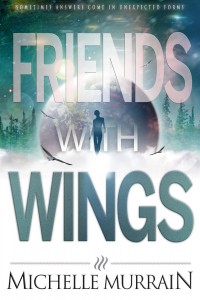 Enjoy this kick-ass heroine post by progressive science fiction author, Michelle Murrain.
***
You get a taste of Trina DeWing, the protagonist of my newest novel, Friends with Wings early in the novel, when you find out that she misses climbing trees, but will happily climb tall fire-escapes in the city. She's young, whip-smart, strong, and resourceful.
She has a lot of trials from the very beginning, but the real test comes when the colony she is a part of is destroyed, and she's left as the sole survivor on another planet. She's the only human left, and more aren't coming for 10 years. As you can imagine, that is a lot to deal with. She's living on a strange planet, with strange beings, and nothing really that looks like home.
Trina is amazing for a number of reasons. First, she manages to survive the colony destruction by climbing a tall tree. Then, she befriends a group of intelligent winged beings on the planet (the "friends with wings,") she figures out how to fix a bunch of broken electronic equipment, she learns to make her own furniture, and all sorts of other things. She has challenges aplenty, and deftly manages to meet them.
I don't often write male protagonists (all of them are in my books with ensemble casts.) When I write female protagonists, they almost always go against the cultural grain in some way – they are always smart, strong and self-possessed, they are often women of color, queer, do very non-traditional kinds of things, and, in general, are pretty kick ass.
Another of my favorite kick ass heroines is Daneli, from my book Becoming Queen. She's kick ass in a very different way. She is physically strong, although like Trina, that's not her primary kick ass quality. She inherits a throne, and is a natural-born leader. She's really good at balancing different priorities and interests. She's respectful, but when it's needed, she lays down the gauntlet. She's also smart and resourceful, but unlike Trina, she lives in a setting where she's surrounded by people who care about her, and care about their country.
And then there are the two kick ass heroines of my historical science fiction novel, The Expedition. This novel is set in the 19th century, and two of the three main characters are definitely kick ass (the third is a man, kick ass hero on his own.) Lena is a widow from Oregon, who has to survive on her own in the west, without a lot of support. And even when Jam'elo (the guy, who is sort of an alien) comes along, her kick ass-ness doesn't stop! She's in love, but she's independent, strong, smart and amazing. The other heroine in this story is Emma – born a slave, escapes, but then is captured again. I won't spoil the story, but she's kick ass in her own way.
I have gotten some backlash for writing such non-traditional heroines, especially since I write hard science fiction. It's not everyday that the main character in a hard science fiction novel about space is a kick ass heroine, let alone a queer kick ass heroine of color. But it's fun writing those characters.
Friends with Wings – Amazon
Becoming Queen – Amazon
The Expedition – Amazon
ABOUT THE AUTHOR
Michelle has been writing science fiction since 2006, and has been an avid reader and fan of science fiction since she started to read. Because she has been both a scientist and a technologist by trade, she went to seminary, and she's a polymath, her interests span a wide range of topics, including science, technology, religion and spirituality, philosophy, history, culture, politics, race, gender, and sexuality. She brings all of these to bear in her science fiction writing. She specializes in stories of culture clash and/or first contact, and her work has numerous strong female protagonists and characters, as well as a lot of diverse characters. She lives in Sonoma County, California with her spouse and 2 cats. Gift for you! Get a one of Michelle's science fiction novels as a gift to you here: http://author.murrain.net/category/writing-life/.