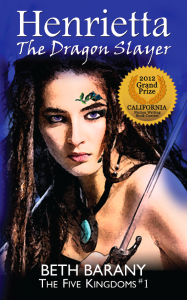 At http://www.prizesforreaders.com/, vote to win a $50 gift certificate at Amazon or Barnes & Noble.
Please vote on Henrietta The Dragon Slayer by 6/1/2015: for the best cover and best blurb.
You can read an excerpt here: https://author.bethbarany.com/books/the-five-kingdom-series/excerpts/.
And enjoy all the other fantasy books in the competition.
To check out about each book, click on the blurb link to read the blurb.
From http://www.prizesforreaders.com/:
So what's this all about?
When you enter your email and click "Register", you will be entered in the above contest. One winner will be chosen by raffle and notified by email. Enter by 06/01/2015.
Must be 18 or older. US, Canada, UK only. Void where prohibited.