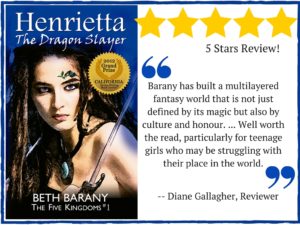 Thank you so much to Diane Gallagher for her lovely 5-star review to Henrietta The Dragon Slayer!
"Barany has built a multilayered fantasy world that is not just defined by its magic but also by culture and honour. … Well worth the read, particularly for teenage girls who may be struggling with their place in the world."
Read the whole review here on Diane's site or Amazon.ca or on Goodreads.
Start the Series Here
If you'd like to see if this young adult adventure fantasy is for you, start with the excerpt here.
Or check out the exclusive prequel here.