I love to travel. You get to get away from home, see new things, new people, new places, step outside the normal routine of daily life. It all feels so different, yet so similar. It surprises me every time. And opens my heart.
This past weekend, Ezra and I drove down from our home in the San Francisco Bay Area to Long Beach, California, so Ezra could be one of the featured authors at Men of Mystery. I'll share about that event in a moment.
I drove the 394 miles along the I-5, passing miles and miles of farmland. It was meditative and especially fun to listen to music and podcasts about the intersection of technology, society, and AI.
The curves of the Grapevine — a mountainous route into Los Angeles — was a welcome and fun change.
Dropping into the traffic congestion gave us a taste of LA freeway life — slow forward, then stop, and repeat.
We arrived a few hours later in Long Beach, checked into the Extended Stay hotel, then headed to Spires, an old-timey diner restaurant.
Ezra ordered breakfast for dinner, as we often do. Cheese omelette, hash browns, and pancakes. He ate most of the first two and brought pancakes back to the hotel for the next day's breakfast.
I had a full dinner and only managed to get through the soup, and taste everything else — boneless pork chops, baked potato, vegetables, and extra butter and sour cream. Yummy.
The portions were huge, the wait staff kind, and the other dinner guests reminded me of home. Business people, families with small, hungry children, retired folks who were called by their first name. Just like at our favorite diner back home.
The next day we gathered at the 15th annual Men of Mystery, where Ezra featured his forthcoming fourth book in The Torah Series, Bullets Aren't Kosher.
The ballroom was full of readers who loved mysteries, thrillers, and suspense, and were there to rub elbows with the 35 authors from all over the country.
Ezra started his one-minute introduction with,
"How many here have woken up wondering where you were?"

(Some hands raised.)

"How many here have woken up wondering who you were?"

(Two hands went up.)

How many here have woken up wondering why you were wanted for murder?"

(One person raised their hand.)
We laughed.
That was his introduction to his forthcoming book, Bullets Aren't Kosher.
He got a lot of laughs and afterwards, signed books and gave away Bullets Aren't Kosher to anyone who purchased one or more of the first three books in The Torah Codes series.
If you're curious, you can check out his first three books and even get a free short story, "Mourner's Kaddish," at his website here: http://www.thetorahcodes.com.
It was great to connect with Ezra's readers face-to-face, see their excitement and joy at getting to read the next book in the series. We were invited back next year and look forward to seeing everyone again.
Also so fun about this trip was the time we spent with Ezra's old college roommate and good friends. Over Chinese food at a family restaurant, we re-connected and laughed at silly riddles by the two teen sons. We could have been anywhere, but as long as we were with those we loved, everywhere was home.
More about the annual event for mystery readers, Men of Mystery, and the authors invited, go here: https://www.menofmystery.org/2018-authors.
About Ezra Barany
Ezra writes irreverent thrillers that get you to read on the edge of your seat, fall off laughing, and cough up your spleen. The display copies of his award-winning, bestselling Torah Codes series keep getting stolen from the display table (no joke!), but he finds solace among his two cats, Rocket and Cinnamon.
About Beth Barany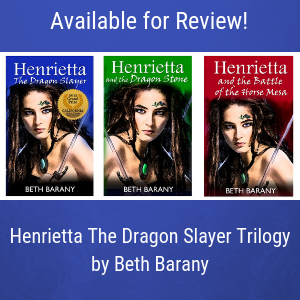 Beth Barany writes magical tales of romance, mystery, and adventure that empower women and girls to be the heroes of their own lives. Beth is the award-winning author of Henrietta The Dragon Slayer and the acclaimed paranormal romance Touchstone series.