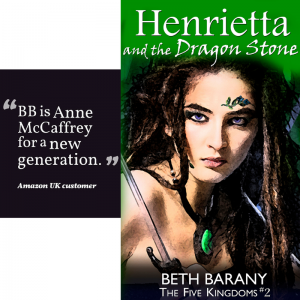 She was used to relying only on herself, but that was about to change.
Henrietta The Dragon Slayer had been looking out for herself for almost her whole life. 17 years.
What does it mean that she starts to care for her new friends?
She learns more about what it means in Henrietta and The Dragon Stone, Book 2. Read an excerpt here.
More about the book and how get your copy here.
Awesome… Fast-paced…
Awesome. Intrigue and double dealings abound. The epic saga continues in this fast paced 2nd book. Henrietta tries to come to terms with the powers associated with her Dragon stone. Although all she wants is to lead a [quiet], solo life it is not to be. Allies bent on making her a heroic leader are all around as are deadly enemies. Can she survive to carry out her diplomatic mission? Will she be forced into the role of leader, lover and protector? A grand scale saga on the same level as Brooks and a very welcome return to old style fantasy. — Krystyna from Amazon
About Henrietta and The Dragon Stone, Book 2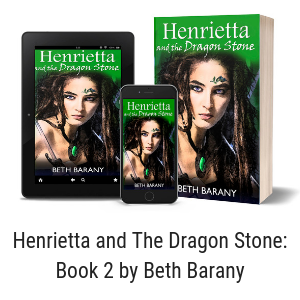 Book 2 in the continuing adventures of Henrietta The Dragon Slayer.
What if all those you loved were threatened by a force you couldn't see or fight?
Henrietta the legendary dragon slayer wants to return to her village for a hero's welcome. But an unknown sorcerer rides after her and her Dragon Stone and aims to destroy everyone she cares about. Can she claim her newfound powers sparked by the Dragon Stone and keep her loved ones safe, or will the sorcerer destroy everyone and everything she loves?
Book 1: Henrietta The Dragon Slayer was the 2012 Grand Prize winner at the California Fiction Writers Book Contest and the 2011 Finalist at the Hollywood Book Festival. Book 3, Henrietta and the Battle of the Horse Mesa, completes the trilogy.
***
About Beth Barany
Beth Barany writes magical tales of romance, mystery, and adventure that empower women and girls to be the heroes of their own lives. Beth is the award-winning author of Henrietta The Dragon Slayer and the acclaimed paranormal romance Touchstone series.
Sign up for her newsletter: https://author.bethbarany.com/newsletter-sign-up/