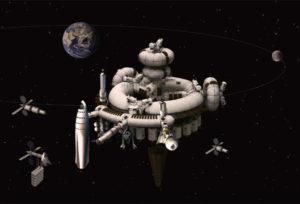 What if you could live on a space station comfortably? What if it was a hotel-casino, a place to play, see the stars, see the Earth in the distance? Have a thrill of your life? Would you do it?
That's the setting of my upcoming science fiction mystery series — set about 100 years into the future, in the era of space stations around the Earth, and around other planets, a Mars colony, and a Moon one too.
I have been having so much fun researching my series, including following some great resources online.
One of my favorites is Space Decentral https://spacedecentral.net/. They're building a decentralized space program, connecting thousands of engineers, scientists, and future astronauts, to devise and fund next-generation space initiatives.
I really fell in love with their article "How I designed a space outpost" by Suzi Bianco, adapted from Suzi's master's thesis — which I'm now reading!
If you'd like to know more about my upcoming Janey McCallister Space Station series, go here.
***
About Beth Barany
Beth Barany writes magical tales of romance, mystery, and adventure that empower women and girls to be the heroes of their own lives. Beth is the award-winning author of Henrietta The Dragon Slayer and the acclaimed paranormal romance Touchstone series.
Sign up for her newsletter: https://author.bethbarany.com/newsletter-sign-up/