I'm excited to announce a monthly-long blog tour featuring the Henrietta The Dragon Slayer series:
Henrietta The Dragon Slayer, Book 1
Henrietta and the Dragon Stone, Book 2
Henrietta and the Battle of Horse Mesa, Book 3
This tour is graciously hosted by Maia, of Silver Dagger Book Tours.
I'm giving away 3 items: $25 Amazon gift card + swag + 1 signed print edition of Henrietta The Dragon Slayer, shipped anywhere in the world.
Enter now. The giveaway ends April 11th. I'll pick winners soon after.
Giveaway
Enter here:
a Rafflecopter giveaway

Follow the tour HERE for exclusive excerpts, guest posts and a giveaway!
https://www.silverdaggertours.com/sdsxx-tours/henrietta-the-dragon-slayer-book-tour-and-giveaway
About Beth Barany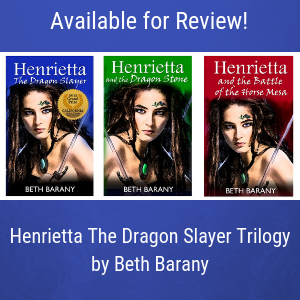 Beth Barany writes magical tales of romance, mystery, and adventure that empower women and girls to be the heroes of their own lives.
Beth is the award-winning author of Henrietta The Dragon Slayer and the acclaimed paranormal romance Touchstone series.