I couldn't sleep. It was 2:30am and all I wanted was to be in the car leaving Oakland and driving down the I-5 to Los Angeles.
Three hours later, dawn broke pink and orange as we headed south to LA.
We were heading to Men of Mystery, an annual reader event highlighting 30_ mystery, thriller, and suspense writers — of which my husband, Ezra Barany, was one.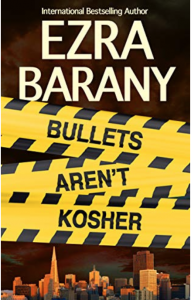 This year he was showcasing and celebrating his latest release, Bullets Aren't Kosher.
Have you ever woken up wondering where you were, who you were, and why you were wanted for murder?
He is so excited to share the fourth book in his Torah Codes series. You can see the whole series here and if you'd like to get sneak peek of his story telling style, check out his free short story, "Mourner's Kaddish," here: https://www.thetorahcodes.com/get-a-complimentary-copy-of-mourners-kaddish-2/.
Another Good Mystery
I picked up a handful of other mysteries at the event today, including Dead Is Better by Jo Perry — the first woman ever featured at Men of Mystery.
I've started it and really enjoy it. It's unusual and fresh, poetic and fast paced.
Charles Stone has just woken up dead. Well he's pretty sure he's dead, what with the bullet holes in his chest and all. He also appears to be totally alone in the after-life except for the ghostly dog who seems to be his new companion.
Unable to interact with the world of the living other than watching and listening, he and the dead dog (whom he names Rose) have nothing to do and all the time in the world to do it.
When Charles and Rose try to unravel the circumstances of Charles's death, they uncover a criminal who is raking in millions of dollars by cruelly exploiting, and sometimes killing, his victims.
But what difference can a ghost make?
And what does the damn dog have to do with any of this?
I'm almost halfway through this short novel and highly recommend it.
What are you reading?
Do you have a favorite mystery to recommend? Or another type of book? I'd love to hear. What are you reading? Let's geek out together.
Coming Soon: Sci-Fi Detective Series
I'll be putting on pre-order soon my newest series featuring space station detective, Janey McCallister.
She wanted quiet. She got murder.
If you'd like to be a beta reader and get an advanced reader copy, check out the sign up form here: https://author.bethbarany.com/coming-soon/.
About Beth Barany
Beth Barany writes magical tales of romance, mystery, and adventure that empower women and girls to be the heroes of their own lives.
Beth is the award-winning author of Henrietta The Dragon Slayer, the first book in the YA Fantasy trilogy, and of the acclaimed paranormal romance Touchstone series, including A Cupcake Christmas.
Her upcoming series, the Janey McCallister Space Station mystery series, is due out in Spring 2020.
To get new release announcements, follow Beth on BookBub and on Amazon.
Next Steps
For you if you love YA Fantasy with a kick-ass heroine, a quirky set of friends, and adventure, then check out Henrietta The Dragon Slayer by starting with the first few chapters of this award-winning series: https://author.bethbarany.com/free-excerpt-to-henrietta-the-dragon-slayer/
For you if you love sweet and sensual paranormal romance, read the first book for free in the Touchstone series here: https://author.bethbarany.com/free-romance-story/.