It was grey day when we visited the cathedral town of Amiens. Low energy, grey skies, but we did manage to get to the cathedral.
And there I was surprised to discover a labyrinth inlaid on its marble floor. Enchanted, I relaxed and felt better.
Amiens had seen action during World War I and there were moving tributes throughout the cathedral.
This northern town 75 miles north of Paris gave us respite and a window into another time.
And was the inspiration for the fourth book in my Touchstone series, Labyrinth of Love and Roses…
One reader said, "I didn't want the story to end! Sassy, Alluring, Suspenseful!" — Mary Van Everbroeck
Another reader said,
"A Sweet Romp I love her easy breezy style of writing. I was drawn along in the story. I was so engrossed I almost missed my bus stop." — Sandra Lee Schubert (Reviewed on Amazon)
You can read an excerpt here: https://author.bethbarany.com/books/a-labyrinth-of-love-and-roses/#excerpt
A Labyrinth of Love and Roses
What if what you wanted got in the way of your destiny?
French MBA grad Lili Grenault needs to succeed at her last pitch meeting to fund her international green tech business. But her grandmother tells her to drop everything, find her one true love, and embrace her magical legacy by Beltane, in one week, or chaos and failure in her life will ensue.
San Francisco investor Brett Barnaby wants to find his great-grandfather's gravesite in Amiens, France, one of the primary battle sites of World War I. Family legend says that purpose, greater mission, and perhaps even untold riches, will be unlocked when he finds that grave. But his search in Amiens brings up fear, anger, and dire warnings about some wild Green Man. He turns to local Lily Grenault for help.
Can these two independent freethinkers work together to prevent chaos from triumphing and find love in time in the labyrinth of roses?
The Stories in the Touchstone series
In order of the series timeline:
1. Touchstone of Love: (A Time Travel Romance novella) (This novella first appeared in Gargoyle: Three Enchanting Romance Novellas) (#1)
2. Christmas Fling (#2)
3. Parisian Amour: (A novella in the Magical Tales of Romance & Adventure series) (#3)
4. A Labyrinth of Love of Roses (#4)
5. A Cupcake Christmas (#5)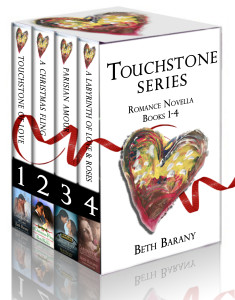 ***
About Beth Barany
Beth Barany writes magical tales of romance and adventure to transport readers to new worlds where anything is possible. Beth is the award-winning author of Henrietta The Dragon Slayer and the acclaimed paranormal romance Touchstone series.
Sign up for her newsletter: https://author.bethbarany.com/newsletter-sign-up/