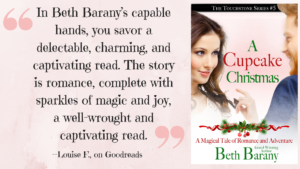 Every Christmas holiday season I used to bake — banana nut bread, chocolate chip cookies, and ginger cookies (loved these!). Then I would give them away as gifts. The smiles on my friends and family's faces were priceless.
Some of my best times growing up were helping my mom cook dinner and watching my dad with fascination as he'd turn raw radishes and carrots into flowers for the banquets he cooked for.
Recently I've returned to baking after years off (went paleo and let go of all breadstuffs.)
I felt great about baking again because I discovered replacement flours — almond and coconut flour — and a replacement for sugar that I love (Monk fruit).
Just in the last two months, ahead of the Christmas holiday season, I've made blueberry cupcakes, cheese and zucchini cupcakes, mug bread (bread in a mug!!!! — both savory and sweet!). I just need to find a keto-friendly ginger cookie (or bread) recipe!
Love baking, must admit, and look forward to crafting Christmas holiday cupcakes and breads again for this gift-giving season. Ginger cookies anyone?!
Do you love baking? (Or eating all the yummy things other people bake?)
My love of baking and making up cupcake recipes, and my love of Christmas elves inspired me to write my 5th paranormal romance Touchstone romance, A Cupcake Christmas.
Hope you enjoy!
"In Beth Barany's capable hands, you savor a delectable, charming, and captivating read. The story is romance, complete with sparkles of magic and joy, a well-wrought and captivating read." — Louise F., on Goodreads
Thanks, Louise!
A Cupcake Christmas (A Christmas Elf story) (Touchstone #5)
What if you risked losing your baking legacy by cooking up a love truly special?
Florian MacMillian needs a final job to complete his baking resume—preferably a job where he's unlikely to blow things up with his unruly magic—before returning to the North Pole and taking his rightful place as Master Baker to all the elves.
Kate Delore desperately needs help in her fast-growing cupcake business. Florian is a perfect fit, so she brings him on as baker. For a short time, Florian is happily up to his elbows in batter, and Kate's business is booming.
But when things heat up between them, Florian wonders if he should risk his legacy to cook up something truly special.
Read an excerpt here: https://author.bethbarany.com/books/a-cupcake-christmas-a-christmas-elf-story-romance/excerpt-a-cupcake-christmas/
The Stories in the Touchstone series
In order of the series timeline:
1. Touchstone of Love: (A Time Travel Romance novella) (This novella first appeared in Gargoyle: Three Enchanting Romance Novellas) (#1)
2. Christmas Fling (#2)
3. Parisian Amour: (A novella in the Magical Tales of Romance & Adventure series) (#3)
4. A Labyrinth of Love of Roses (#4)
5. A Cupcake Christmas (#5)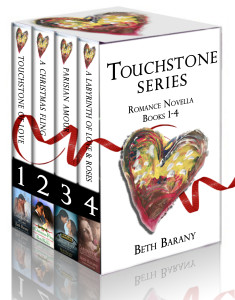 ***
About Beth Barany
Beth Barany writes magical tales of romance and adventure to transport readers to new worlds where anything is possible. Beth is the award-winning author of Henrietta The Dragon Slayer and the acclaimed paranormal romance Touchstone series.
Sign up for her newsletter: https://author.bethbarany.com/newsletter-sign-up/